3000 watt automatic chuck and rotary CNC tube fiber laser cutting machine
Product Description
#detail_decorate_root .magic-0{border-bottom-style:solid;border-bottom-color:#aaaaac;font-family:Roboto;font-size:18px;color:#000;background-color:#b3b2b2;font-style:normal;border-bottom-width:2px;padding-top:8px;padding-bottom:4px}#detail_decorate_root .magic-1{width:750px}#detail_decorate_root .magic-2{overflow:hidden;width:750px;height:562.5px;margin-top:0;margin-bottom:0;margin-left:0;margin-right:0}#detail_decorate_root .magic-3{margin-top:0;margin-left:0;width:750px;height:562.5px}#detail_decorate_root .magic-4{margin-bottom:10px;line-height:0}#detail_decorate_root .magic-5{margin-bottom:0}#detail_decorate_root .magic-6{position:relative;width:100%}#detail_decorate_root .magic-7{overflow:hidden;width:373px;height:279.75px;margin-top:0;margin-bottom:0;margin-left:0;margin-right:0}#detail_decorate_root .magic-8{margin-top:0;margin-left:0;width:373px;height:279.75px}#detail_decorate_root .magic-9{overflow:hidden;width:373px;height:279px;margin-top:0;margin-bottom:0;margin-left:4px;margin-right:0}#detail_decorate_root .magic-10{width:300px;display:flex;flex-direction:column;margin-right:4px;margin-left:0}#detail_decorate_root .magic-11{width:446px}#detail_decorate_root .magic-12{overflow:hidden;width:446px;height:446px;margin-top:0;margin-bottom:0;margin-left:0;margin-right:0}#detail_decorate_root .magic-13{margin-top:0;margin-left:0;width:446px;height:446px}#detail_decorate_root .magic-14{width:750px;border-collapse:collapse}#detail_decorate_root .magic-15{min-height:18px;padding:5px 10px;width:237px;min-height:18px;box-sizing:content-box}#detail_decorate_root .magic-16{display:none}#detail_decorate_root .magic-17{min-height:18px;padding:5px 10px;width:91px;min-height:18px;box-sizing:content-box}#detail_decorate_root .magic-18{min-height:18px;padding:5px 10px;width:457px;min-height:18px;box-sizing:content-box}#detail_decorate_root .magic-19{min-height:18px;padding:5px 10px;width:127px;min-height:18px;box-sizing:content-box}#detail_decorate_root .magic-20{min-height:18px;padding:5px 10px;width:236px;min-height:18px;box-sizing:content-box}#detail_decorate_root .magic-21{min-height:18px;padding:5px 10px;width:456px;min-height:18px;box-sizing:content-box}#detail_decorate_root .magic-22{min-height:18px;padding:5px 10px;width:109px;min-height:18px;box-sizing:content-box}#detail_decorate_root .magic-23{min-height:18px;padding:5px 10px;width:138.333px;min-height:18px;box-sizing:content-box}#detail_decorate_root .magic-24{min-height:18px;padding:5px 10px;width:139px;min-height:18px;box-sizing:content-box}#detail_decorate_root .magic-25{min-height:18px;padding:5px 10px;width:236px;box-sizing:content-box}#detail_decorate_root .magic-26{min-height:18px;padding:5px 10px;width:109px;box-sizing:content-box}#detail_decorate_root .magic-27{min-height:18px;padding:5px 10px;width:456px;box-sizing:content-box}#detail_decorate_root .magic-28{min-height:18px;padding:5px 10px;width:138.333px;box-sizing:content-box}#detail_decorate_root .magic-29{min-height:18px;padding:5px 10px;width:139px;box-sizing:content-box}#detail_decorate_root .magic-30{vertical-align:top}#detail_decorate_root .magic-31{vertical-align:top;display:inline-block;padding-right:4px;width:33.33%;box-sizing:border-box;margin-bottom:-4px;padding-left:4px;margin-top:-4px}#detail_decorate_root .magic-32{vertical-align:top;box-sizing:border-box;padding-top:4px}#detail_decorate_root .magic-33{width:245px;height:183.75000000000003px;overflow:hidden}#detail_decorate_root .magic-34{position:relative;left:0;top:0;width:245.00000000000003px;height:183.75000000000003px}#detail_decorate_root .magic-35{vertical-align:top;padding-bottom:4px;box-sizing:border-box;padding-top:4px}#detail_decorate_root .magic-36{padding:0;margin:0;white-space:pre-wrap;font-size:14px}#detail_decorate_root .magic-37{width:245px;height:183px;overflow:hidden}#detail_decorate_root .magic-38{position:relative;left:0;top:0;width:245px;height:196.49px}#detail_decorate_root .magic-39{position:relative;left:0;top:0;width:245px;height:354.468085106383px}#detail_decorate_root .magic-40{text-align:center}#detail_decorate_root .magic-41{width:245px;height:290.6449044585987px;overflow:hidden}#detail_decorate_root .magic-42{position:relative;left:6px;top:-6px;width:232px;height:276px}#detail_decorate_root .magic-43{position:relative;left:-40px;top:-4px;width:365px;height:274px}#detail_decorate_root .magic-44{position:relative;left:12px;top:-22px;width:399.76982097186703px;height:290px}#detail_decorate_root .magic-45{width:245px;height:217.05702647657841px;overflow:hidden}#detail_decorate_root .magic-46{position:relative;left:0;top:0;width:245px;height:217.05702647657841px}#detail_decorate_root .magic-47{width:245px;height:217px;overflow:hidden}#detail_decorate_root .magic-48{position:relative;left:0;top:0;width:289.3333333333333px;height:217px}#detail_decorate_root .magic-49{position:relative;left:0;top:0;width:245px;height:222.72727272727275px}#detail_decorate_root .magic-50{width:245px;height:165.35980148883374px;overflow:hidden}#detail_decorate_root .magic-51{position:relative;left:0;top:0;width:245px;height:165.35980148883374px}#detail_decorate_root .magic-52{width:245px;height:165px;overflow:hidden}#detail_decorate_root .magic-53{position:relative;left:0;top:0;width:245px;height:196.29969418960243px}#detail_decorate_root .magic-54{position:relative;left:-36px;top:-4px;width:317.1171171171171px;height:165px}#detail_decorate_root .magic-55{width:245px;height:245.52238805970148px;overflow:hidden}#detail_decorate_root .magic-56{position:relative;left:0;top:0;width:245px;height:245.52238805970148px}#detail_decorate_root .magic-57{width:245px;height:245px;overflow:hidden}#detail_decorate_root .magic-58{position:relative;left:-308px;top:4px;width:652px;height:198px}#detail_decorate_root .magic-59{position:relative;left:-36px;top:-2px;width:326.6666666666667px;height:245px}#detail_decorate_root .magic-60{overflow:hidden;width:446px;height:250.64462809917356px;margin-top:0;margin-bottom:0;margin-left:0;margin-right:0}#detail_decorate_root .magic-61{margin-top:0;margin-left:0;width:446px;height:250.64462809917356px}#detail_decorate_root .magic-62{width:300px;display:flex;flex-direction:column;margin-right:0;margin-left:4px}#detail_decorate_root .magic-63{font-size:16px}#detail_decorate_root .magic-64{overflow:hidden;width:446px;height:204.56533333333334px;margin-top:0;margin-bottom:0;margin-left:0;margin-right:0}#detail_decorate_root .magic-65{margin-top:0;margin-left:0;width:446px;height:204.56533333333334px}#detail_decorate_root .magic-66{vertical-align:top;display:block;padding-right:4px;box-sizing:border-box;padding-left:4px}#detail_decorate_root .magic-67{overflow:hidden;width:184.5px;height:186.3636363636364px;margin-top:0;margin-bottom:0;margin-left:0;margin-right:0}#detail_decorate_root .magic-68{margin-top:-2.005434782608696px;margin-left:0;width:184px;height:186px}#detail_decorate_root .magic-69{overflow:hidden;width:184.5px;height:185.50271739130437px;margin-top:0;margin-bottom:0;margin-left:4px;margin-right:0}#detail_decorate_root .magic-70{margin-top:0;margin-left:-34.09239130434783px;width:247px;height:185px}#detail_decorate_root .magic-71{margin-top:0;margin-left:0;width:184px;height:186px}#detail_decorate_root .magic-72{margin-top:0;margin-left:-40.108695652173914px;width:222px;height:166px}#detail_decorate_root .magic-73{overflow:hidden;width:247.33333333333334px;height:187.97333333333336px;margin-top:0;margin-bottom:0;margin-left:0;margin-right:0}#detail_decorate_root .magic-74{margin-top:0;margin-left:0;width:247px;height:187px}#detail_decorate_root .magic-75{overflow:hidden;width:247.33333333333334px;height:187.25236167341433px;margin-top:0;margin-bottom:0;margin-left:4px;margin-right:0}#detail_decorate_root .magic-76{margin-top:0;margin-left:0;width:481px;height:187px}#detail_decorate_root .magic-77{margin-top:0;margin-left:6.008097165991904px;width:487px;height:205px}#detail_decorate_root .magic-78{overflow:hidden;width:750px;height:576px;margin-top:0;margin-bottom:4px;margin-left:0;margin-right:0}#detail_decorate_root .magic-79{margin-top:0;margin-left:0;width:750px;height:576px}#detail_decorate_root .magic-80{overflow:hidden;width:373px;height:289.3575757575758px;margin-top:0;margin-bottom:0;margin-left:0;margin-right:0}#detail_decorate_root .magic-81{margin-top:0;margin-left:0;width:373px;height:289.3575757575758px}#detail_decorate_root .magic-82{overflow:hidden;width:373px;height:289px;margin-top:0;margin-bottom:0;margin-left:4px;margin-right:0}#detail_decorate_root .magic-83{margin-top:0;margin-left:0;width:444.5791190864601px;height:289px}#detail_decorate_root .magic-84{overflow:hidden;width:247.33333333333334px;height:141.85743716522458px;margin-top:0;margin-bottom:0;margin-left:0;margin-right:0}#detail_decorate_root .magic-85{margin-top:0;margin-left:0;width:247px;height:141px}#detail_decorate_root .magic-86{overflow:hidden;width:247.33333333333334px;height:141.19028340080973px;margin-top:0;margin-bottom:0;margin-left:4px;margin-right:0}#detail_decorate_root .magic-87{margin-top:0;margin-left:0;width:259px;height:141px}#detail_decorate_root .magic-88{margin-top:0;margin-left:0;width:255px;height:141px}#detail_decorate_root .magic-89{overflow:hidden;width:750px;height:750px;margin-top:0;margin-bottom:0;margin-left:0;margin-right:0}#detail_decorate_root .magic-90{margin-top:-18px;margin-left:-2px;width:750px;height:750px}#detail_decorate_root .magic-91{overflow:hidden;width:446px;height:165.65714285714284px;margin-top:0;margin-bottom:0;margin-left:0;margin-right:0}#detail_decorate_root .magic-92{margin-top:0;margin-left:0;width:446px;height:165.65714285714284px} Product Description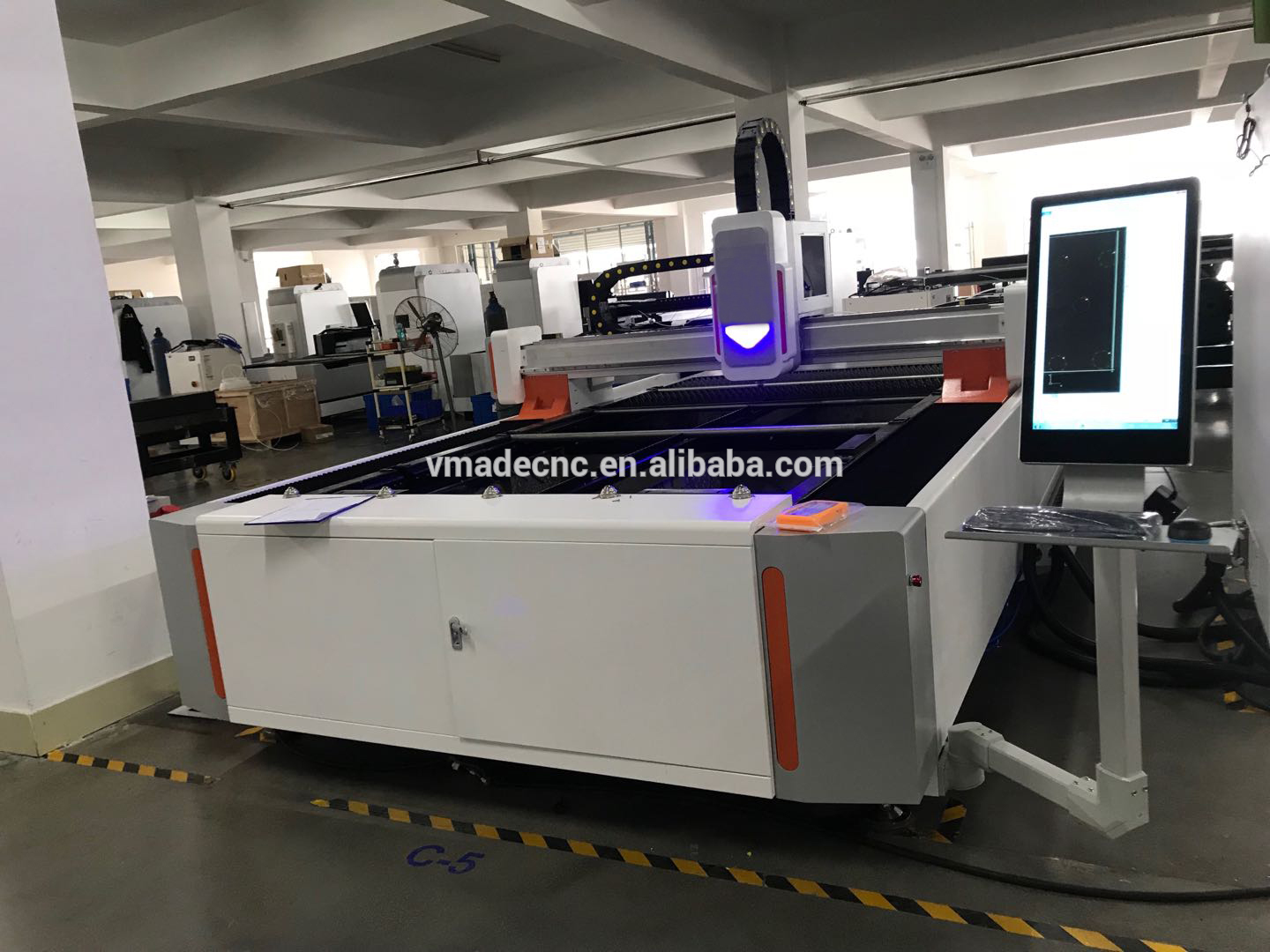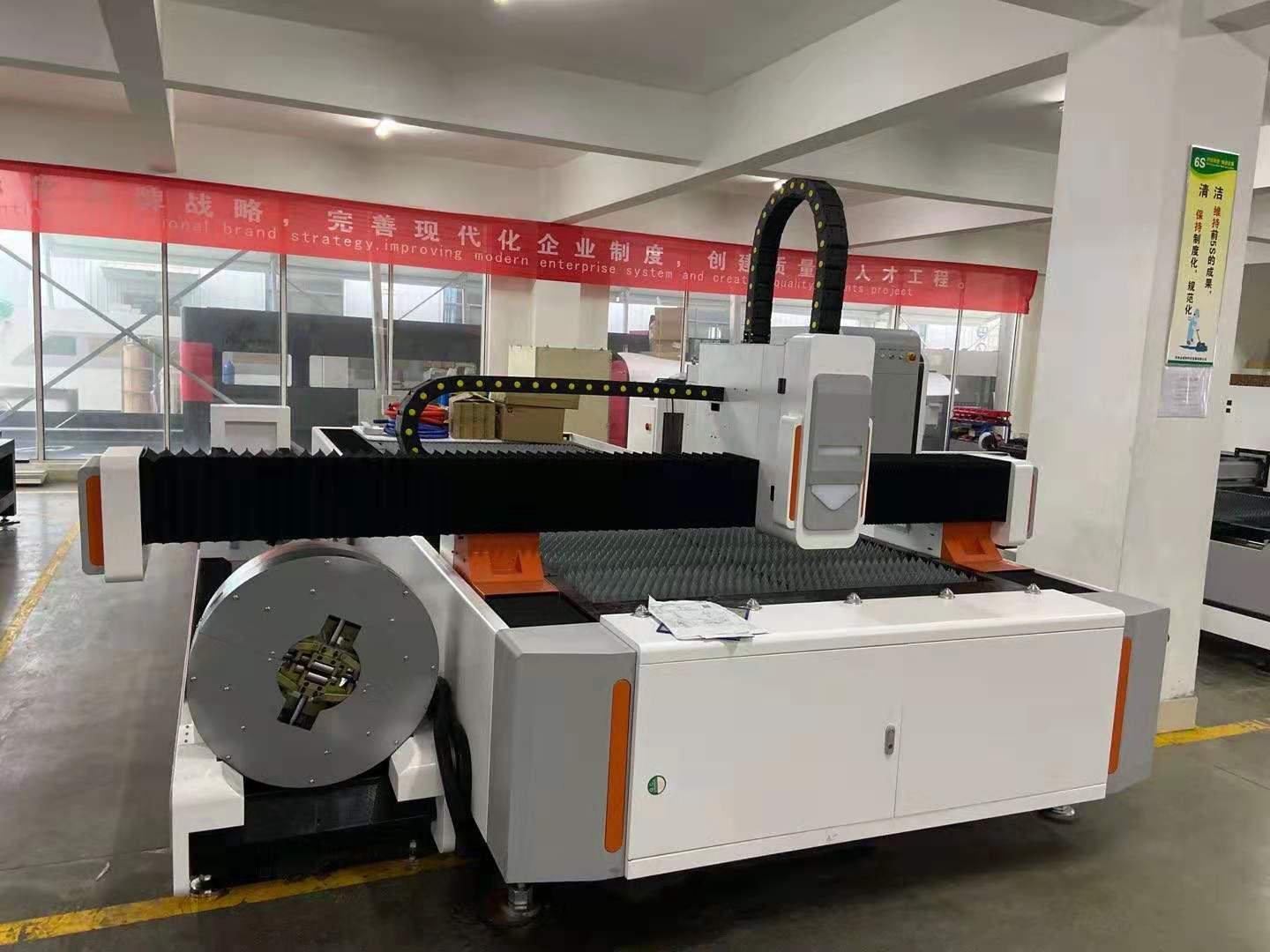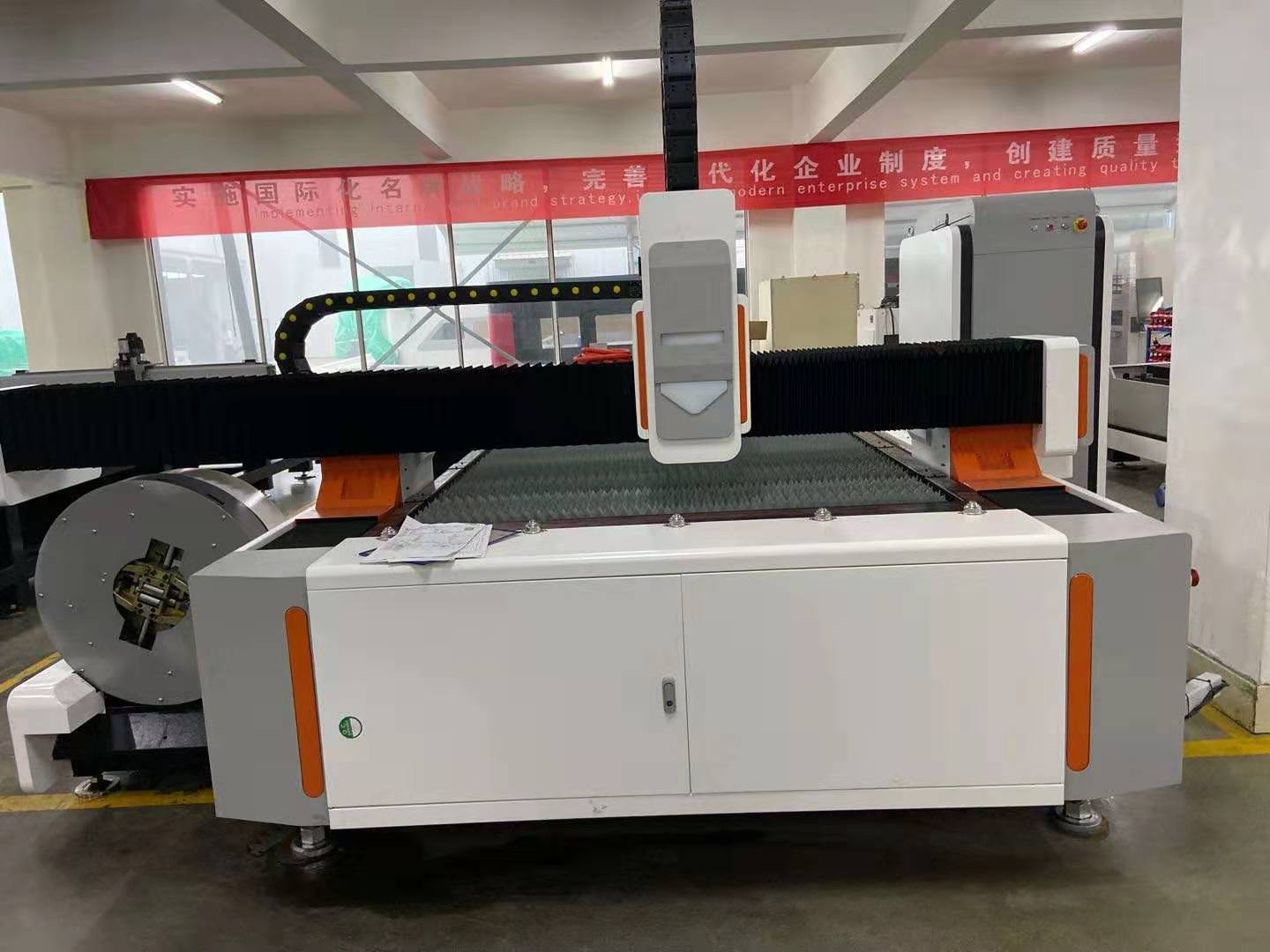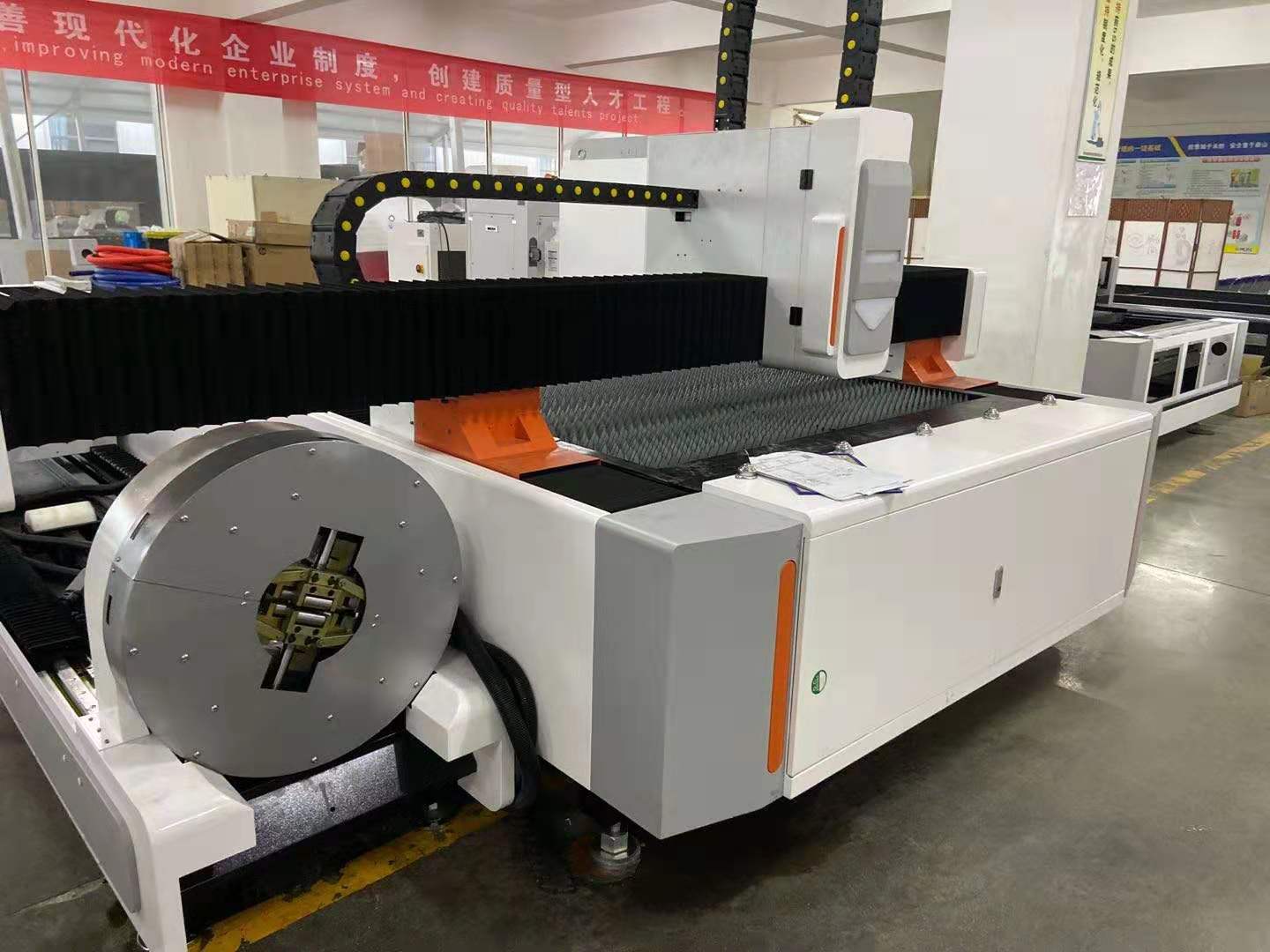 Detailed Images Machine Configuraions 1.Raycus/IPG Laser Source2.Raytools Cutting Head 3.Cyput Control System
4. X,Y,ZJapan Yaskawa Servo Motors
5.Taiwan Hiwin Guide Rail 6.APEX Rack Gear 7.Taiwan TBI Ball Screw 8.France Motovario Reducer 9.Tongfei Water Chiller 10.Penumatic Auxiliary Loading System 11.France Schneider Electrical Part 12.Japan SMC Penumatic Compents 13.IPAD Computer 14.3rd Generation Aviation Aluminum Gantry 15.Heavy industrial Machine Bed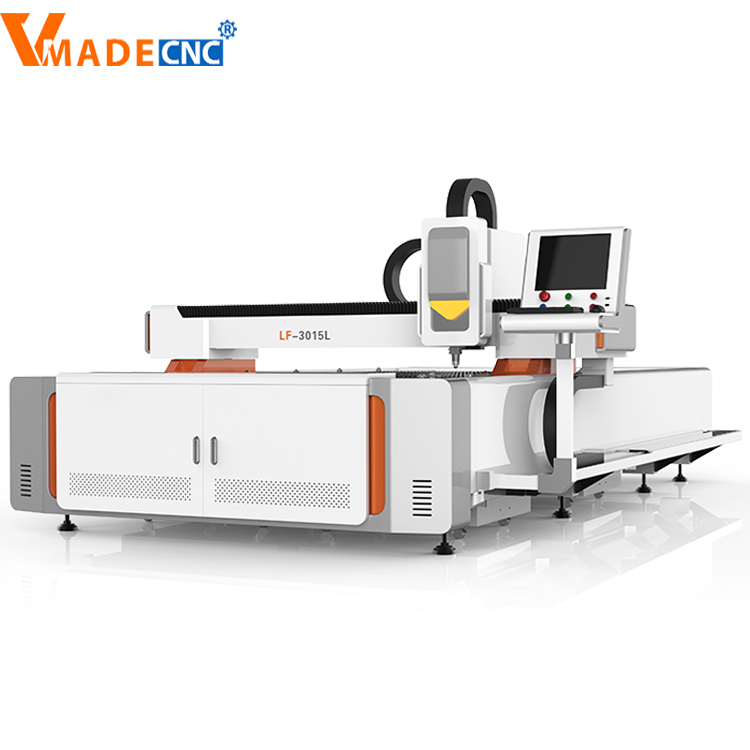 | | | | | |
| --- | --- | --- | --- | --- |
| Model | | 1530 Size Fiber Laser Cutting Machine | | |
| X,Y axis positionaI accuracy | | ±0.01mm | | |
| X,Y axis repeated positioning accuracy | | ±0.02mm | | |
| Maximun moving speed | | 80m/min | | |
| maximum acceleration | | 1G | | |
| Maximum load on working platform | | 700kg | | |
| X-axis guide width | | 20MM | | |
| Y-axis guide width | | 30MM | | |
| Machine size | | 4450*4197*1860mm | | |
| Machine weight | | 2400kg | | |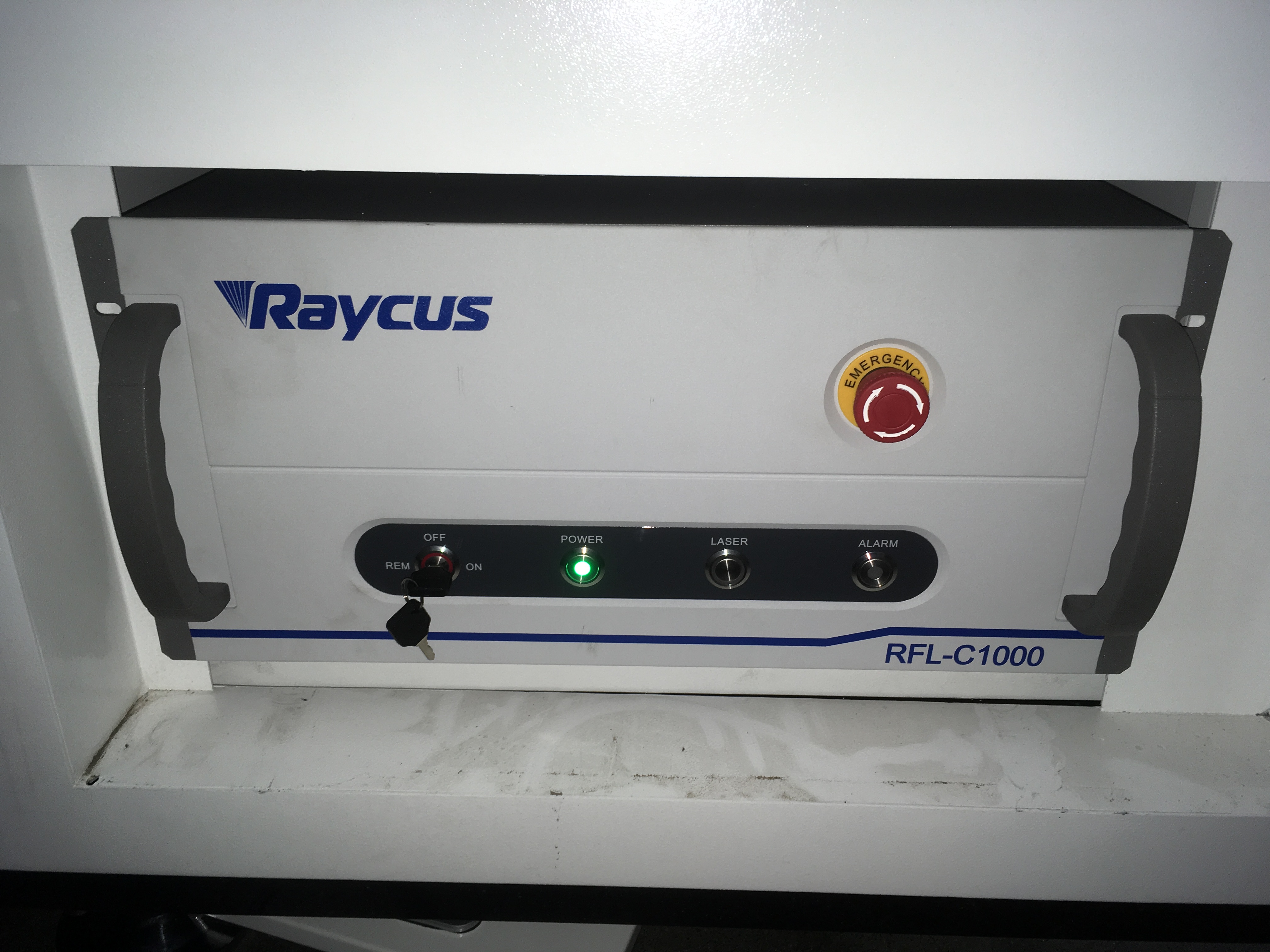 Raycus Laser Source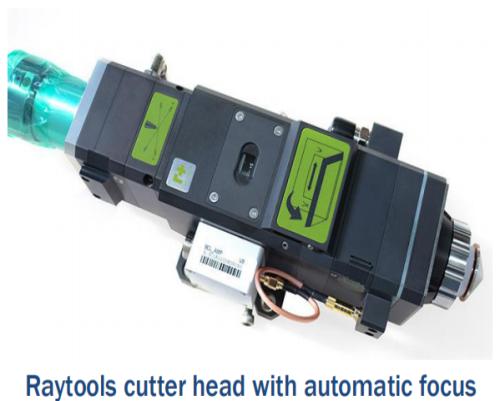 Raytools Autofocus Cutting Head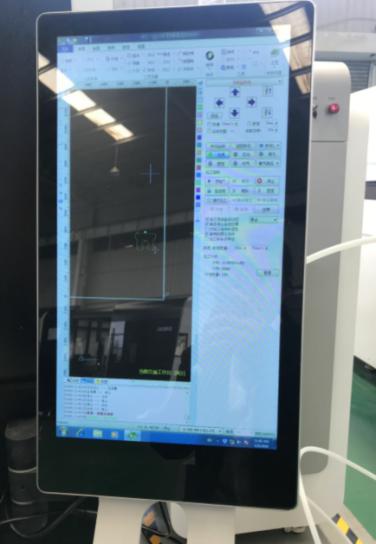 Cyput Control System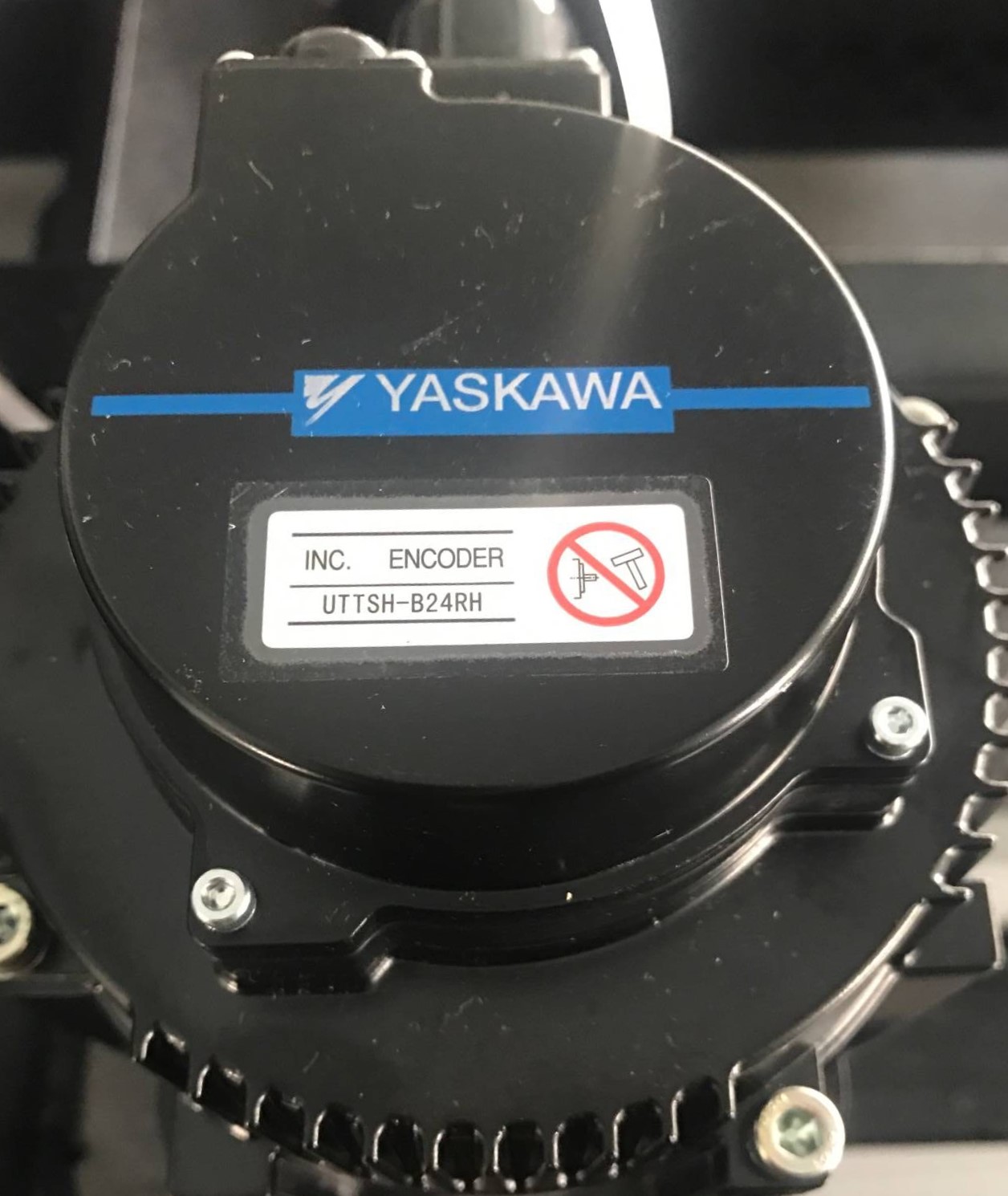 Japan Yaskawa Servo Motors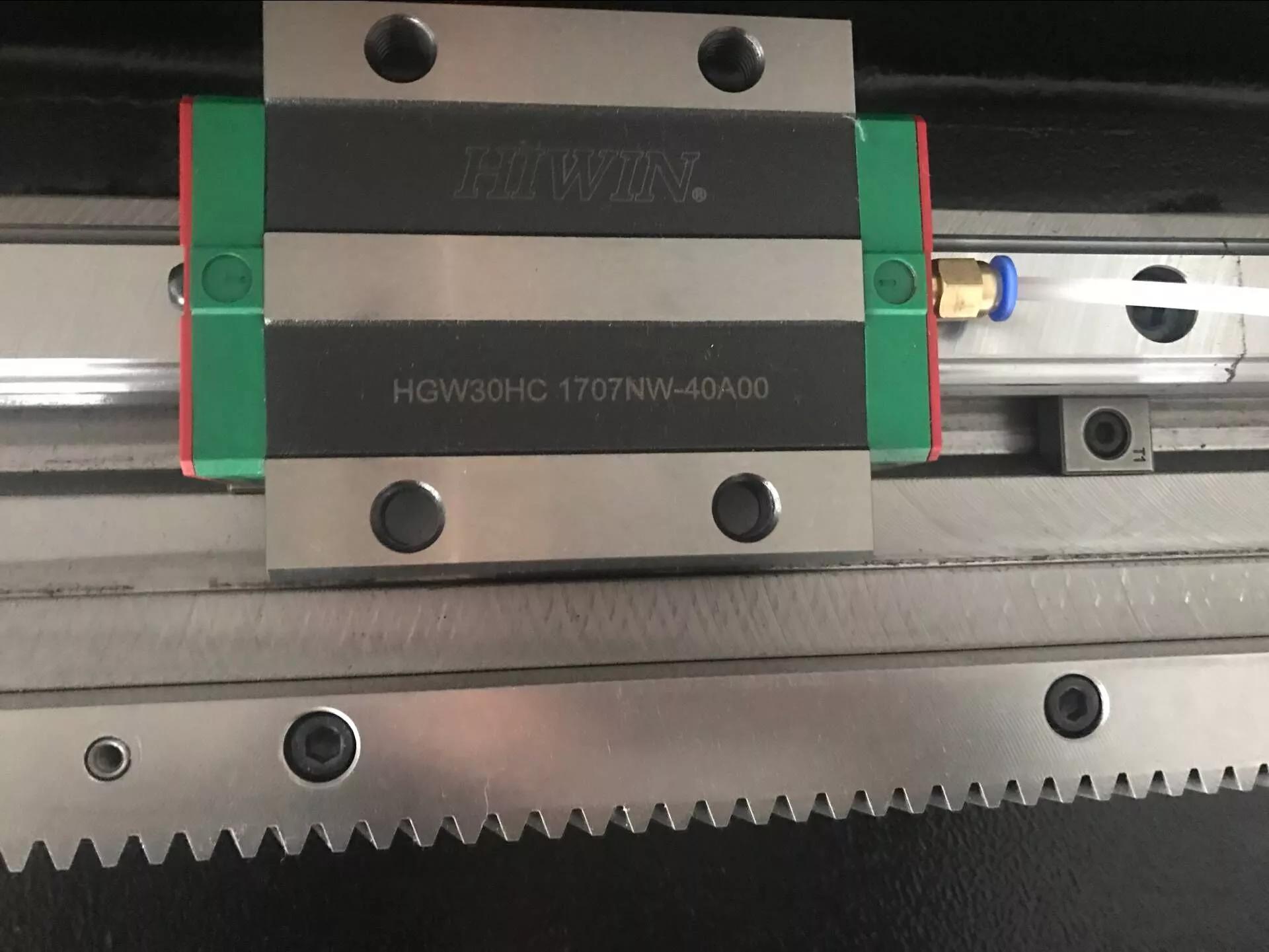 Taiwan Hiwin Guide Rail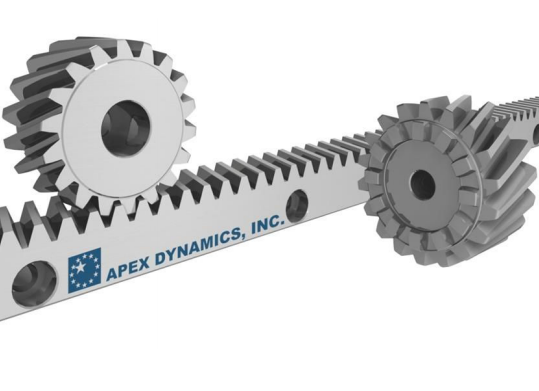 APEX Rack Gear
TBI Ball Screw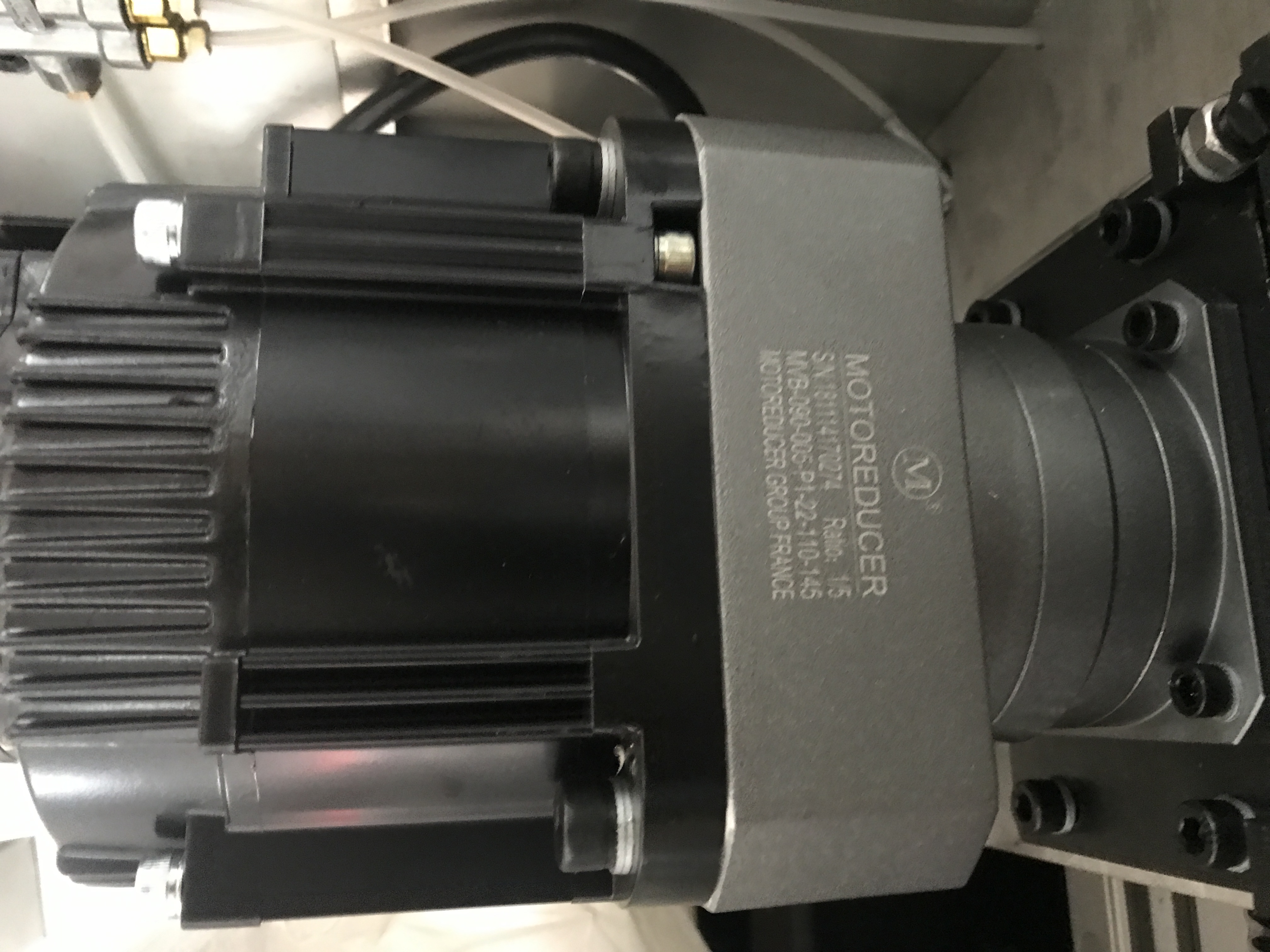 France Motovario Reducer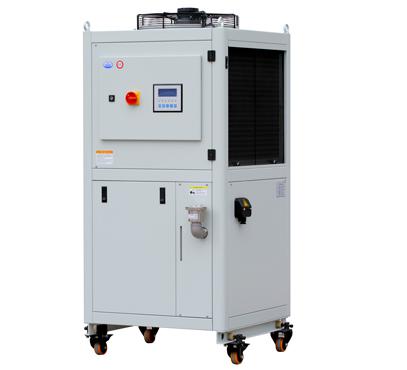 Tongfei Water Chiller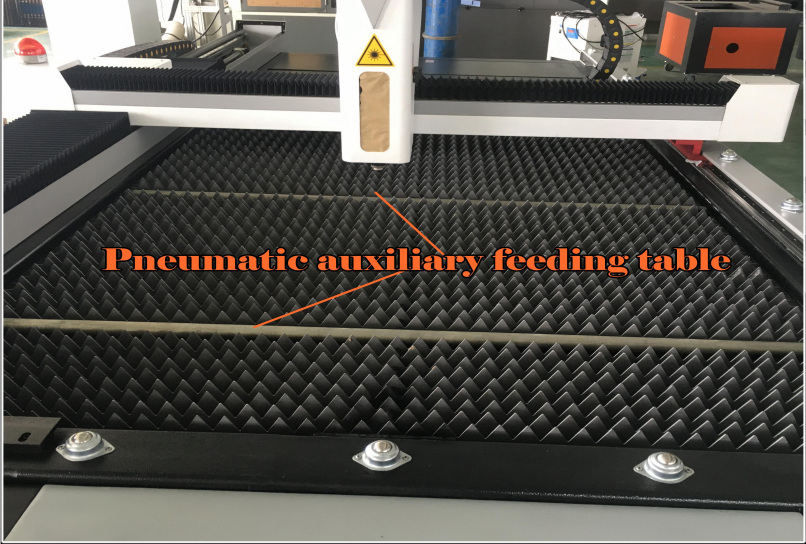 Penumatic Auxiliary Loading System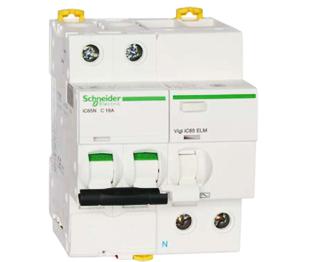 France Schneider Electrical Part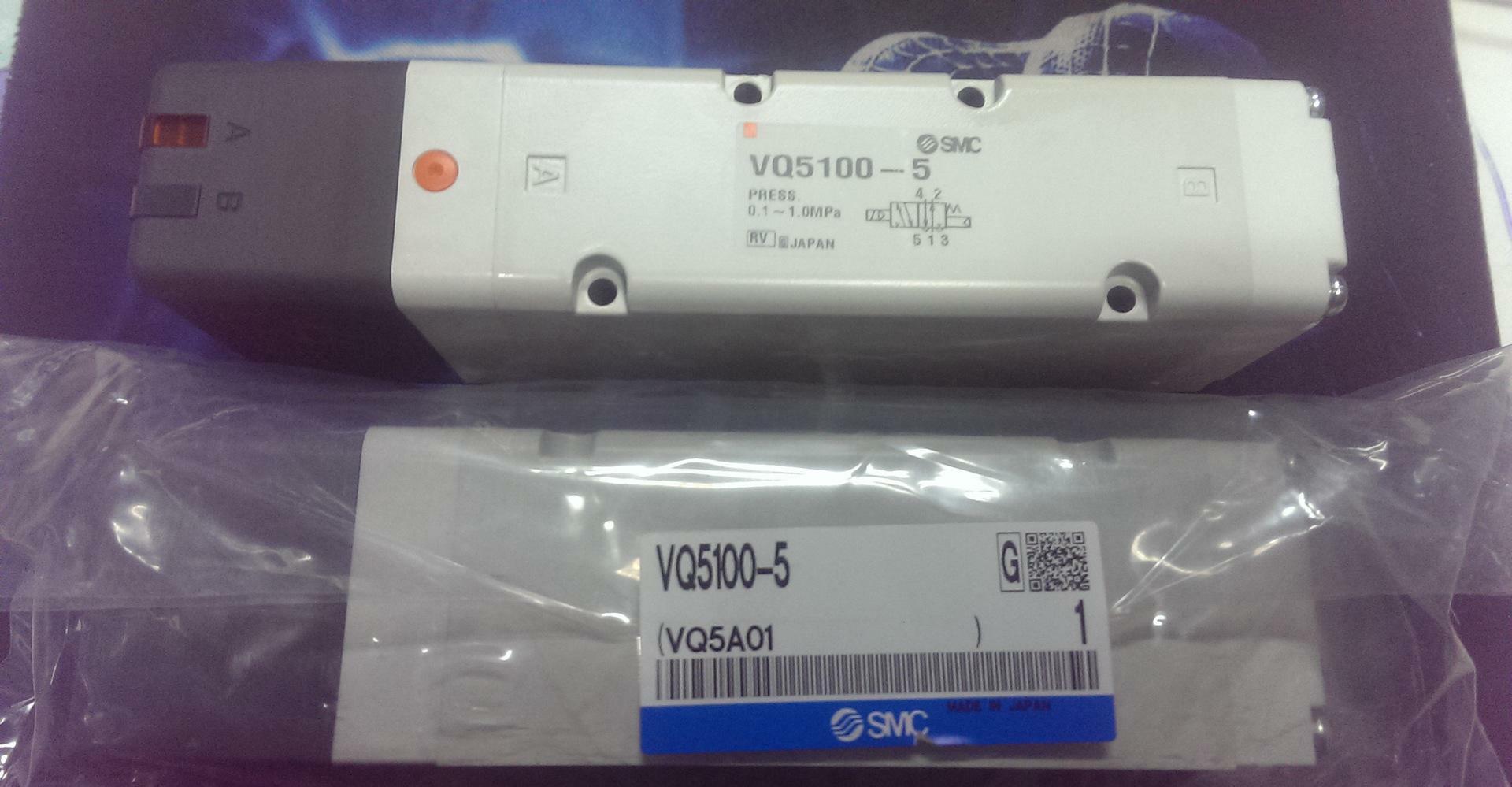 Japan SMC Penumatic Compents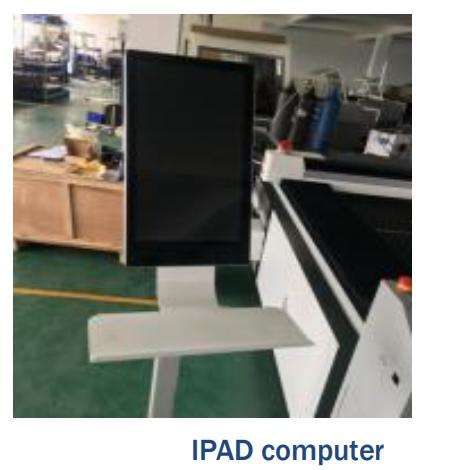 IPAD Compputer

3rd Generation Aviation Aluminum Gantry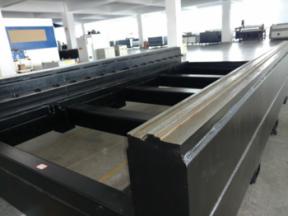 Heavy industrial Machine Bed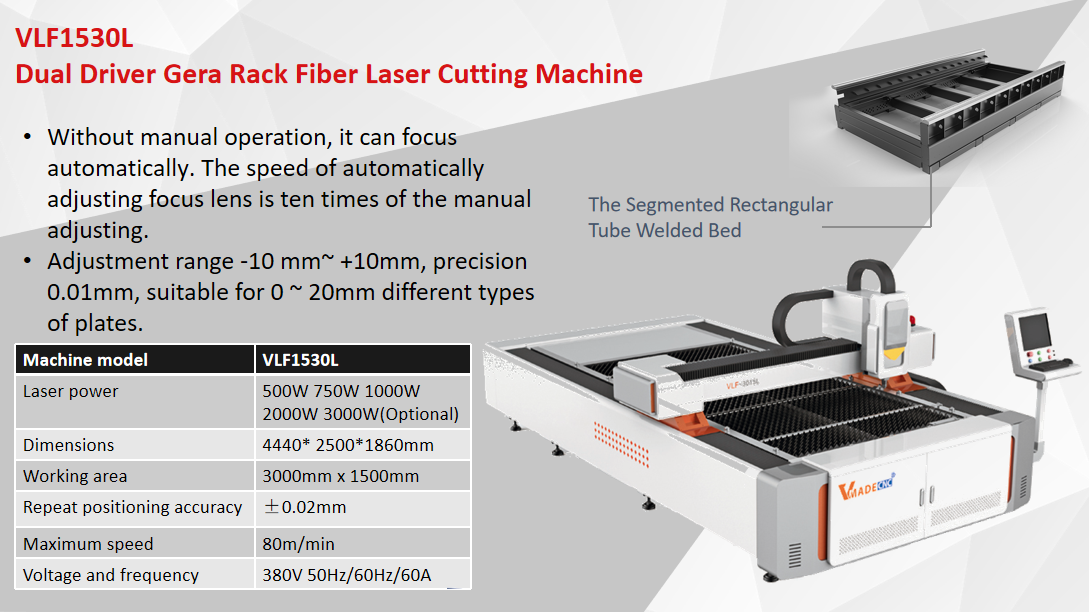 1.High speed, high precision, high efficiency and low cost.
2.Easy on operation, fiber optical path, without tediously adjustment on optical path
3.Compact structure, good sealing, strongly adaptable to changes in the environment.
4.With the perfect automatic nesting system which can save time, save the materials,the sheet utilization ration up to 95% Application Carbon steel,stainless steel,alloy steel, spring steel and copper, aluminum, gold,silver and titanium sheets and pipes.Machinery parts electrics, sheet metal fabrication, electrical cabinet, kitchenware, elevator panel, hardware tools,metal enclosure, advertising sign letters, lighting lamps, metal crafts, decoration, jewelry, medical instruments, automotive parts and other metal cutting fields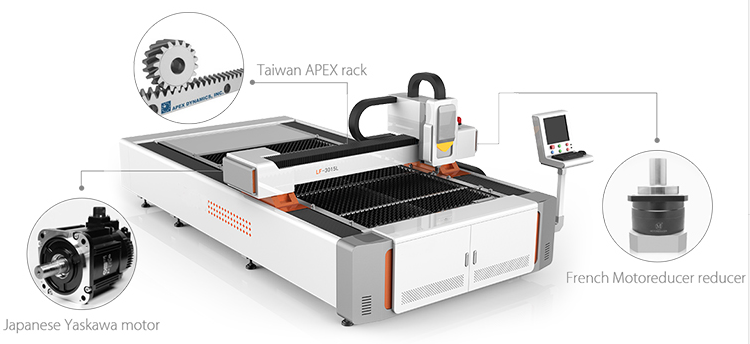 Fiber Laser Cutting Machine Advantages 1) Excellent beam quality: Smaller focus diameter and high work efficiency, high quality.
2) High cutting speed: Cutting speed is more than 50m/min.
3) Stable running: Adopting the top world import fiber lasers, stable performance, key parts can reach 100,000 hours.
4) High efficiency for photoelectric conversion: Compare with CO2 laser cutting machine, fiber laser cutting machine has three times photoelectric conversion efficiency.
5) Low cost & Low maintenance: Save energy and protect environment. Photoelectric conversion rate is up to 25-30%. Low electric power consumption, it is only about 20%-30% of traditional CO2 laser cutting machine. Fiber line transmission no need reflect lens, save maintenance cost.
6) Easy operations: fiber line transmission, no adjustment of optical path.
7) Super flexible optical effects: Compact design, easy to flexible manufacturing requirements.
8). Adopted Original Raycus or German IPG fiber laser source: with long using life up to 150000 hours and high cutting speed up to 60m/min.
9). Japan YASKAWA Servo motor with double APEX rack gear driving system: can make sure the cutting high precision especially comparing with the single driver system.
10). Imported World Famous "LaserMech" laser head with auto focusing height follower: which can ensure the constant same distance. between the head and cutting material.
11). The cutting slot is very slim, can reach up to 0.05mm: The machine is very suitable for processing precision parts with high efficiency.
12). Automatic Lubrication System for Mechanic: which can lubricate the linear guiderail nearly 500 times per minute to make sure the high precision.
13). Convenient Collecting System: which has the special funnel design to make collecting more easy. Samples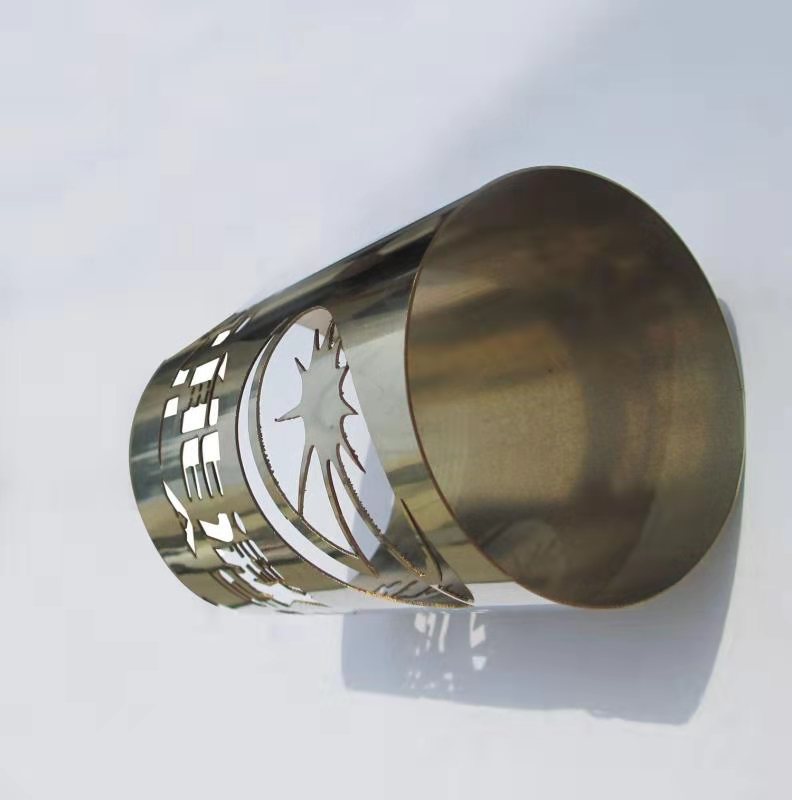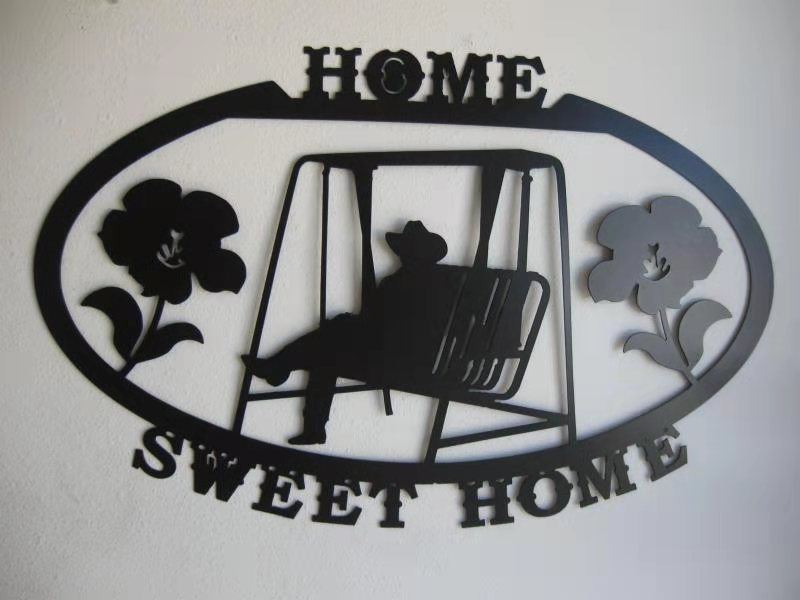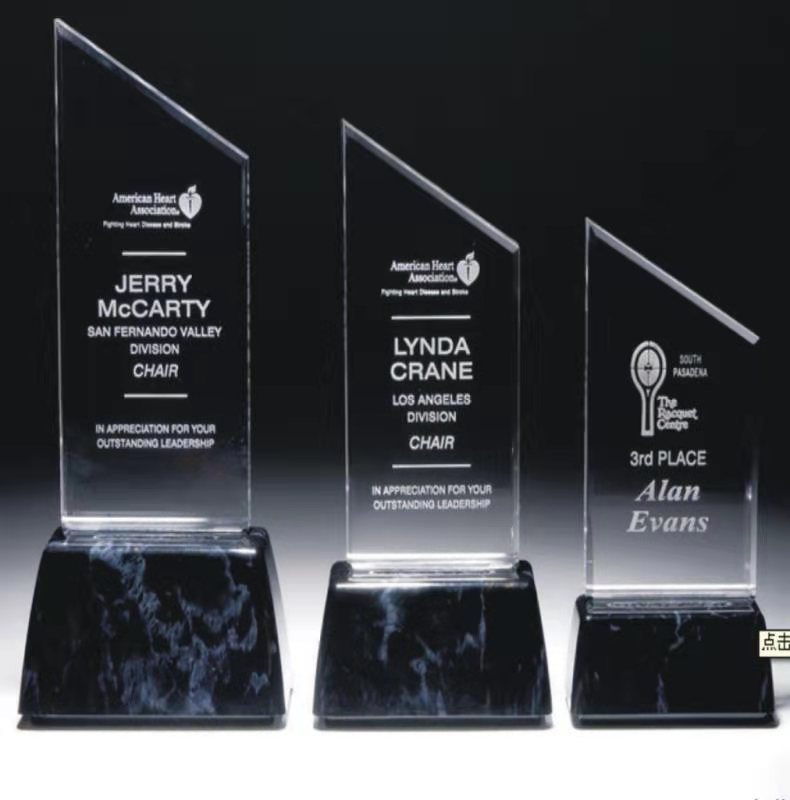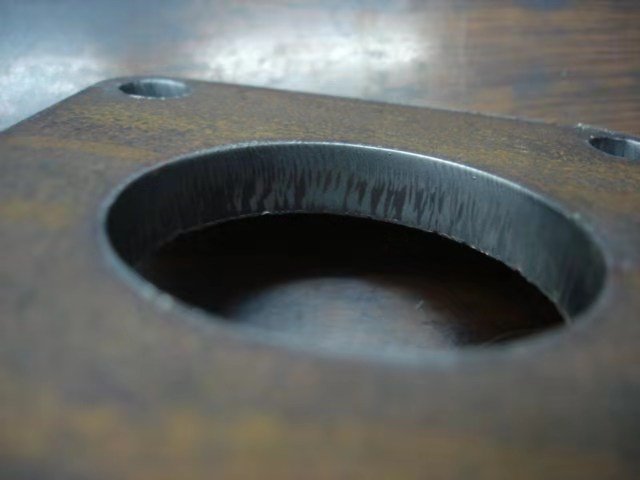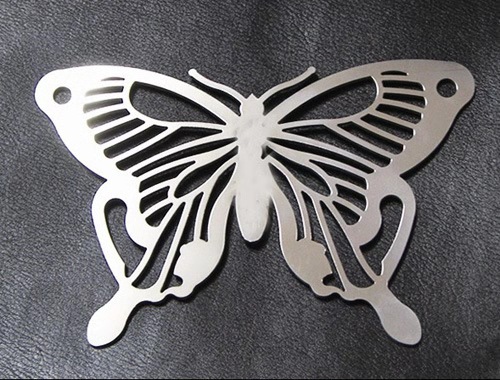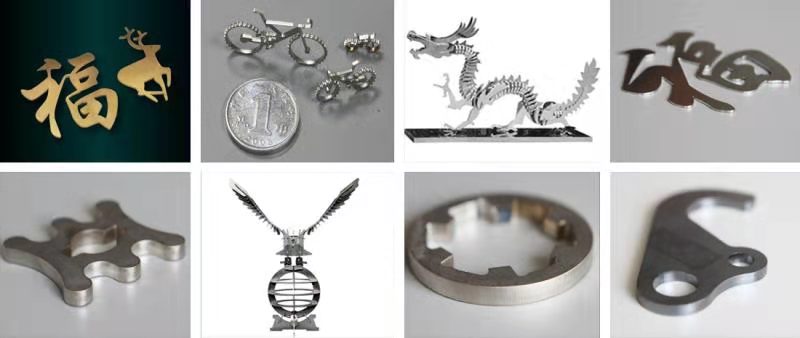 Company Introduction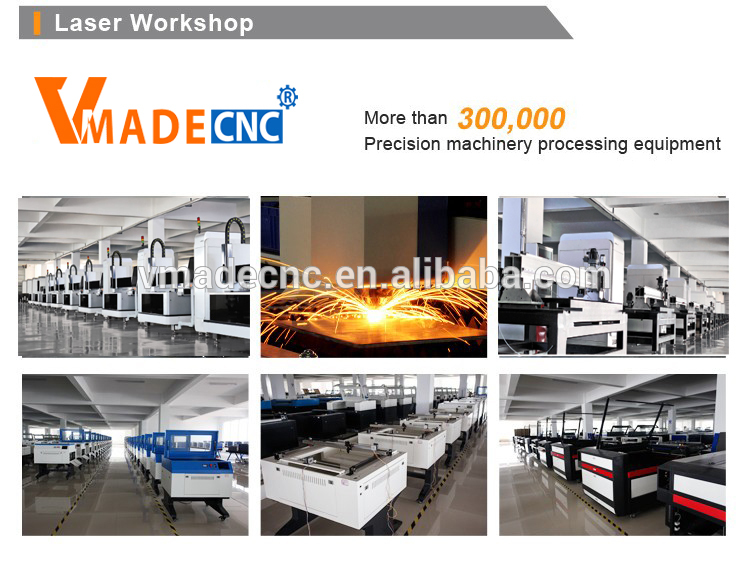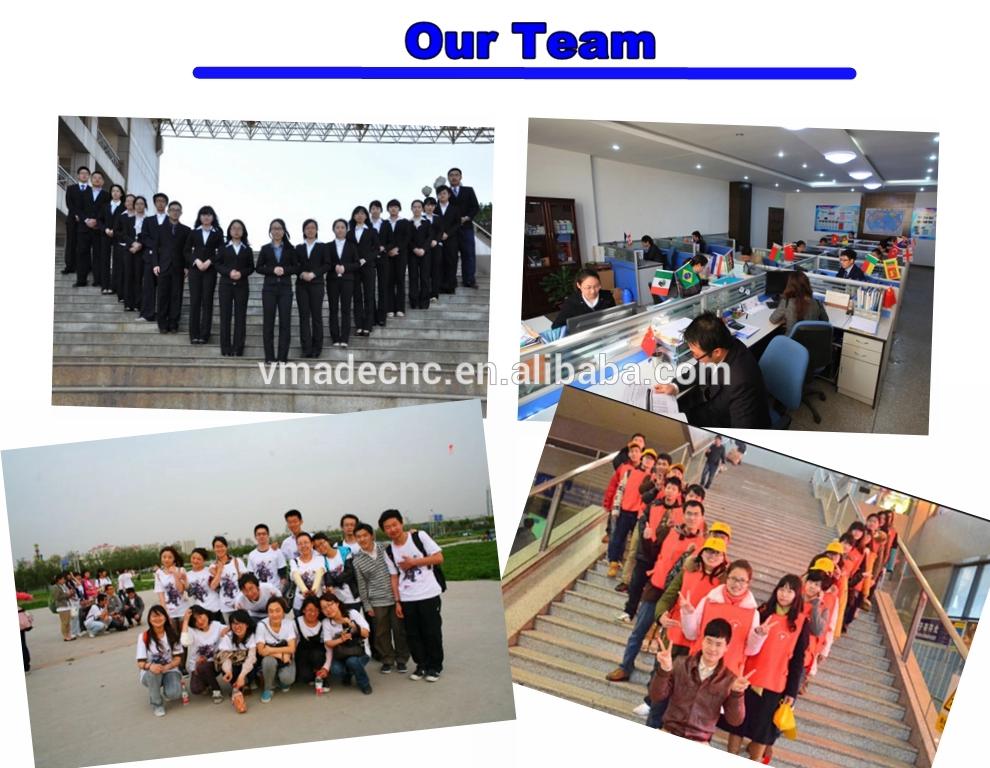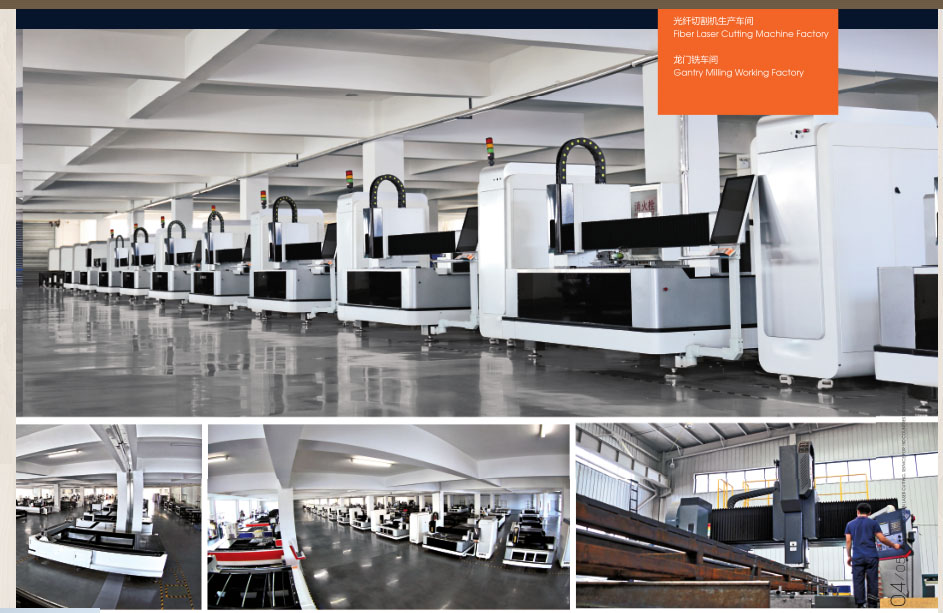 Jinan Vmade CNC Machine Co.,Ltd was established in 2010. Located in high-tech zone, Jinan City, Shandong Province of China. It is a professional team which specialized in Optic, Electricity, Mechanics, and R&D field. Vmade keep delicate and attentive attitude on every step and always keep to learn the most advanced technology and create more humanized products to all our customers. These years, Vmade has sold their products to all over the world. Such as USA, Canada, Brazil, Russia, England, Australia, more than 60 countries and do OEM service to more than 15 dealers and distributors. Vmade is warmly welcomed by customers with their continuously enthusiasm, Frist-Class before/after sales service, fficient reaction and the perfect machine quality.The name of Vmade originate from most of the buyers' expectation. "V", means the VIP design and production which specially customized to each "made", means we use hundred percentage of our attention to focus on every order, finalized all clients' entrust with perfect products which are elaborate made.Vmade CNC, keep innovation, with high passion, to provide perfect project for very client. Welcome join Vmade, we will never let you down! Certificate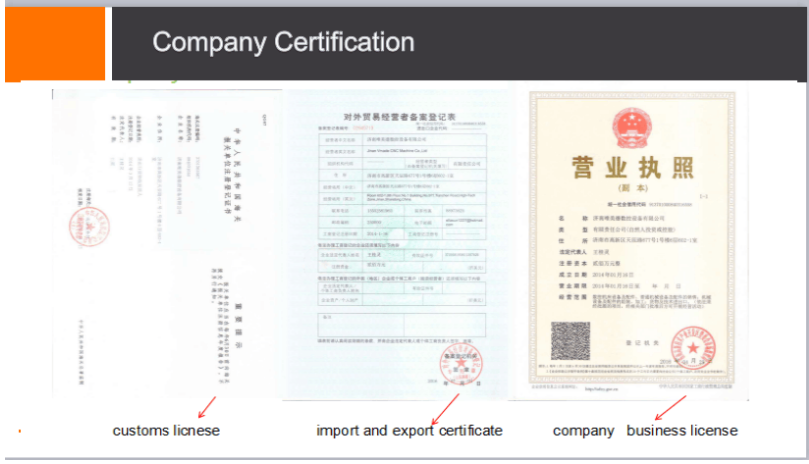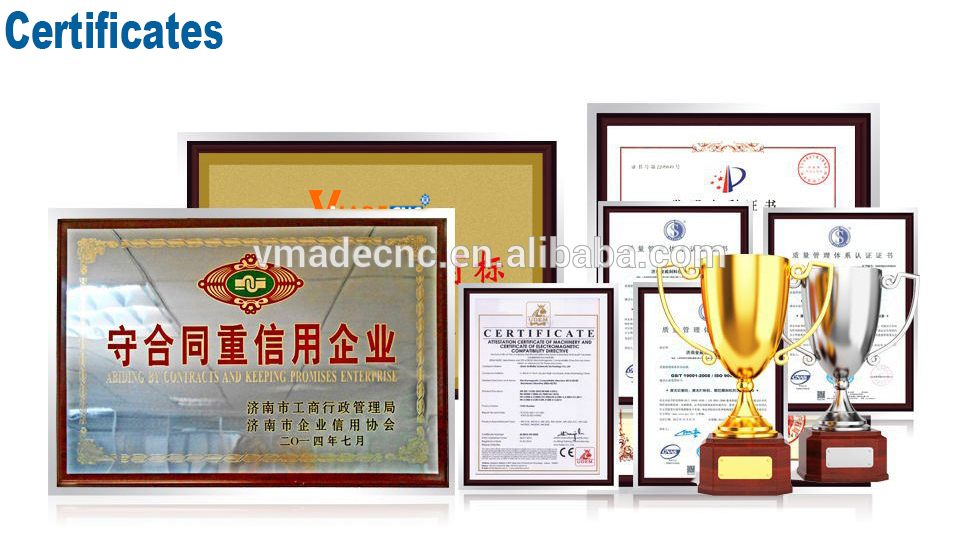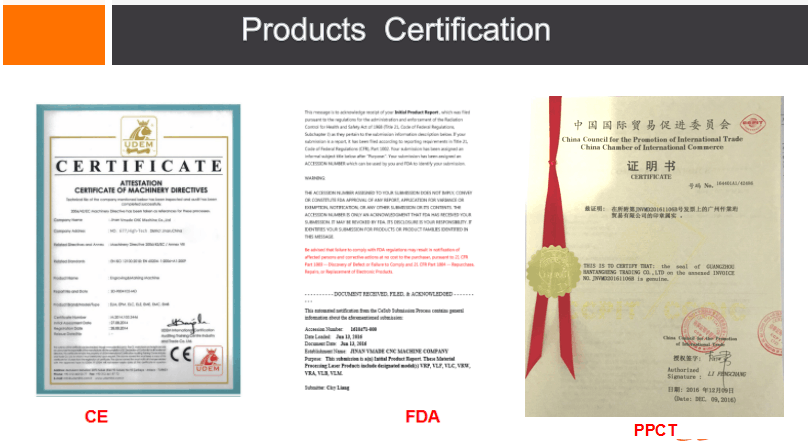 Packing&Shipping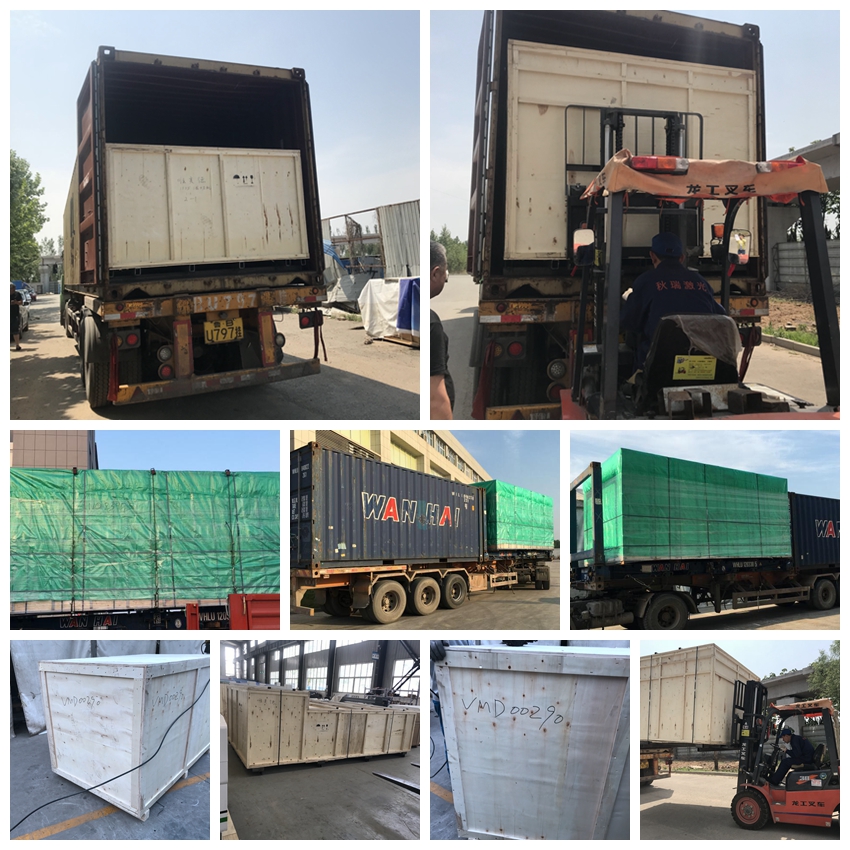 * We can design different types according to your needs Please tell us your requirement,we will use our professional knowledge and experience to help you choose the most suitable machine FAQ Q1: Trade company or Manufacturer?
we are manufacturer, warmly welcome to visit our factory.
Q2:Is it easy to operate for the new user?
It is very easy to operate. we offer you operating video for english language, also our technician can help you Skype,
Whatsapp, Email and calling etc, they can speak good english.
Q3:Is there any other model for choose?
Yes, you can choose other model as your requirement or send your detail requirement, then we will recommend most suitable model for you.
Q4:How about the payment terms?
General we use 100% T/T,30 % T/T in advance+70%T/T after check video and pictures before shipment.
Q5:How about the shipment terms?
FOB QINGDAO is our port, if you like CIF to your port ,it is ok ,Kindly tell me which port is convenient for you ? and you can use your forwarder also .
Q6:How about the After-sale service?
we provide 3-year warranty, Engineers available to service machinery overseas and English manual. Contact us if you need more details on Laser Cutting Machines Tube 1Kw 1530 Fiber Laser Cutting Machine Rotary 2000W. We are ready to answer your questions on packaging, logistics, certification or any other aspects about 1000w 2000w 3000w 4000w fiber laser cutting machine heavy industry fiber laser machine Rotary、Fiber Laser Cutting Machine For Tube Square Pipe raycus 1000W Laser Focus Fiber Metal Auto Rotary Cutting Machine. If these products fail to match your need, please contact us and we would like to provide relevant information.
Product Categories : Laser Metal Cutting Machine > 12mm-16mm Cutting