Mobile Protector Up-Down Table CO2 Laser Engraving and Cutting Machine
Product Description
#detail_decorate_root .magic-0{border-bottom-style:solid;border-bottom-color:#a0b0d0;font-family:Roboto;font-size:24px;color:#000;background-color:#f7f7f7;font-style:normal;border-bottom-width:2px;padding-top:8px;padding-bottom:4px}#detail_decorate_root .magic-1{width:750px}#detail_decorate_root .magic-2{overflow:hidden;width:750px;height:371px;margin-top:0;margin-bottom:0;margin-left:0;margin-right:0}#detail_decorate_root .magic-3{margin-top:0;margin-left:0;width:750px;height:371px}#detail_decorate_root .magic-4{color:#e56600;font-family:"sans serif",tahoma,verdana,helvetica;font-size:16px}#detail_decorate_root .magic-5{margin:0;padding:0;text-size-adjust:none;color:#333;font-family:Arial;font-size:16px}#detail_decorate_root .magic-6{vertical-align:top}#detail_decorate_root .magic-7{vertical-align:top;display:block;padding-right:4px;box-sizing:border-box;padding-left:4px}#detail_decorate_root .magic-8{vertical-align:top;padding-bottom:4px;box-sizing:border-box;padding-top:4px}#detail_decorate_root .magic-9{padding:0;margin:0;white-space:pre-wrap;font-size:14px}#detail_decorate_root .magic-10{font-size:16px}#detail_decorate_root .magic-11{box-sizing:content-box;margin:0;padding:0;border:0;font-style:inherit;font-variant-ligatures:normal;font-variant-caps:normal;font-variant-numeric:inherit;font-variant-east-asian:inherit;font-stretch:inherit;line-height:inherit;vertical-align:baseline;letter-spacing:normal;orphans:2;text-indent:0;text-transform:none;white-space:normal;widows:2;word-spacing:0;-webkit-text-stroke-width:0;text-decoration-style:initial;text-decoration-color:initial;color:#000;background-color:#f5f5f5;overflow-wrap:break-word}#detail_decorate_root .magic-12{box-sizing:content-box;margin:0;padding:0;border:0;font-style:inherit;font-variant:inherit;font-stretch:inherit;line-height:21px;vertical-align:baseline}#detail_decorate_root .magic-13{box-sizing:content-box}#detail_decorate_root .magic-14{overflow:hidden;width:750px;height:1685.9028960817718px;margin-top:0;margin-bottom:0;margin-left:0;margin-right:0}#detail_decorate_root .magic-15{margin-top:0;margin-left:0;width:750px;height:1685.9028960817716px}#detail_decorate_root .magic-16{font-size:18px}#detail_decorate_root .magic-17{text-align:center;box-sizing:content-box;margin:0;padding:0;font-style:normal;font-variant-ligatures:normal;font-variant-caps:normal;font-variant-numeric:inherit;font-variant-east-asian:inherit;font-weight:400;font-stretch:inherit;line-height:15px;border-collapse:collapse;background:#fff;letter-spacing:normal;orphans:2;text-indent:0;text-transform:none;white-space:normal;widows:2;word-spacing:0;-webkit-text-stroke-width:0;text-decoration-style:initial;text-decoration-color:initial;color:#000}#detail_decorate_root .magic-18{box-sizing:content-box;margin:0;padding:0;font-style:inherit;font-variant:inherit;font-weight:inherit;font-stretch:inherit;line-height:inherit}#detail_decorate_root .magic-19{box-sizing:content-box;margin:8px;padding:0;font-style:inherit;font-variant:inherit;font-weight:400;font-stretch:inherit;line-height:inherit;float:none;color:#000;border:1px solid #ccc}#detail_decorate_root .magic-20{box-sizing:content-box;margin:0;padding:0;border:0;font-style:inherit;font-variant:inherit;font-weight:inherit;font-stretch:inherit;line-height:20px;vertical-align:baseline;color:#00f}#detail_decorate_root .magic-21{box-sizing:content-box;margin:0;padding:0;border:0;font-style:inherit;font-variant:inherit;font-weight:inherit;font-stretch:inherit;line-height:inherit;vertical-align:baseline}#detail_decorate_root .magic-22{overflow:hidden;width:750px;height:1125.9493670886077px;margin-top:0;margin-bottom:0;margin-left:0;margin-right:0}#detail_decorate_root .magic-23{margin-top:0;margin-left:0;width:750px;height:1125.9493670886077px}#detail_decorate_root .magic-24{margin-top:5px;margin-bottom:5px;text-size-adjust:none;zoom:1;font-family:"sans serif",tahoma,verdana,helvetica}#detail_decorate_root .magic-25{margin:0;padding:0;text-size-adjust:none;font-size:16px}#detail_decorate_root .magic-26{overflow:hidden;width:750px;height:381.55594405594405px;margin-top:0;margin-bottom:0;margin-left:0;margin-right:0}#detail_decorate_root .magic-27{margin-top:0;margin-left:0;width:750px;height:381.55594405594405px}#detail_decorate_root .magic-28{overflow:hidden;width:750px;height:404.61624026696325px;margin-top:0;margin-bottom:0;margin-left:0;margin-right:0}#detail_decorate_root .magic-29{margin-top:0;margin-left:0;width:749.9999999999999px;height:404.61624026696325px}#detail_decorate_root .magic-30{overflow:hidden;width:750px;height:376.75233644859816px;margin-top:0;margin-bottom:0;margin-left:0;margin-right:0}#detail_decorate_root .magic-31{margin-top:0;margin-left:0;width:750px;height:376.75233644859816px}#detail_decorate_root .magic-32{overflow:hidden;width:750px;height:500px;margin-top:0;margin-bottom:0;margin-left:0;margin-right:0}#detail_decorate_root .magic-33{margin-top:0;margin-left:0;width:750px;height:500px}#detail_decorate_root .magic-34{box-sizing:content-box;padding-left:4px;border:0;font-variant-numeric:inherit;font-variant-east-asian:inherit;font-weight:bold;font-stretch:inherit;font-size:16px;line-height:1;font-family:Arial,Helvetica,sans-senif;vertical-align:baseline;white-space:pre-wrap}#detail_decorate_root .magic-35{margin:0;padding:0 4px;border:0;font-variant-numeric:inherit;font-variant-east-asian:inherit;font-stretch:inherit;font-size:12px;line-height:inherit;font-family:Arial,Helvetica,sans-senif;vertical-align:top;display:inline-block}#detail_decorate_root .magic-36{margin:0;padding:4px 0;border:0;font:inherit;vertical-align:top}#detail_decorate_root .magic-37{box-sizing:content-box;margin:0;padding:0;border:0;font-style:inherit;font-variant:inherit;font-weight:inherit;font-stretch:inherit;font-size:16px;line-height:inherit;font-family:inherit;vertical-align:baseline;white-space:pre-wrap}#detail_decorate_root .magic-38{box-sizing:content-box;border:0;font:inherit;vertical-align:baseline}#detail_decorate_root .magic-39{box-sizing:content-box;margin:0;padding:0;border:0;font-style:inherit;font-variant:inherit;font-weight:inherit;font-stretch:inherit;font-size:inherit;line-height:24px;font-family:inherit;vertical-align:baseline}#detail_decorate_root .magic-40{box-sizing:content-box;margin:0;padding:0;border:0;font-style:inherit;font-variant:inherit;font-weight:inherit;font-stretch:inherit;font-size:inherit;line-height:normal;font-family:inherit;vertical-align:baseline;background-image:initial;background-position:initial;background-size:initial;background-repeat:initial;background-attachment:initial;background-origin:initial;background-clip:initial}#detail_decorate_root .magic-41{box-sizing:content-box;margin:0;padding:0;border:0;font-style:inherit;font-variant:inherit;font-weight:inherit;font-stretch:inherit;font-size:inherit;line-height:36px;font-family:inherit;vertical-align:baseline}#detail_decorate_root .magic-42{box-sizing:content-box;margin:0;padding:0;border:0;font-style:inherit;font-variant:inherit;font-weight:inherit;font-stretch:inherit;font-size:inherit;line-height:normal;font-family:inherit;vertical-align:baseline}#detail_decorate_root .magic-43{margin-top:5px;margin-bottom:5px;text-size-adjust:none;zoom:1;text-align:justify}#detail_decorate_root .magic-44{margin:0;padding:0;text-size-adjust:none}#detail_decorate_root .magic-46{margin-top:5px;margin-bottom:5px;text-size-adjust:none;zoom:1;text-align:justify;vertical-align:baseline;background-color:#f5f5f5}#detail_decorate_root .magic-47{margin:0;padding:0;text-size-adjust:none;font-style:inherit;line-height:21px;vertical-align:baseline}#detail_decorate_root .magic-48{margin:0;padding:0;text-size-adjust:none;font-style:inherit;line-height:21px;vertical-align:baseline;color:#f60}#detail_decorate_root .magic-49{margin:0;padding:0;text-size-adjust:none;text-align:justify;border:0;vertical-align:baseline}#detail_decorate_root .magic-50{margin:0;padding:0;text-size-adjust:none;font-style:inherit;line-height:21px;vertical-align:baseline;color:#00f}#detail_decorate_root .magic-51{overflow:hidden;width:750px;height:300px;margin-top:0;margin-bottom:0;margin-left:0;margin-right:0}#detail_decorate_root .magic-52{margin-top:0;margin-left:0;width:750px;height:300px}#detail_decorate_root .magic-53{margin-bottom:10px;overflow:hidden} Product Description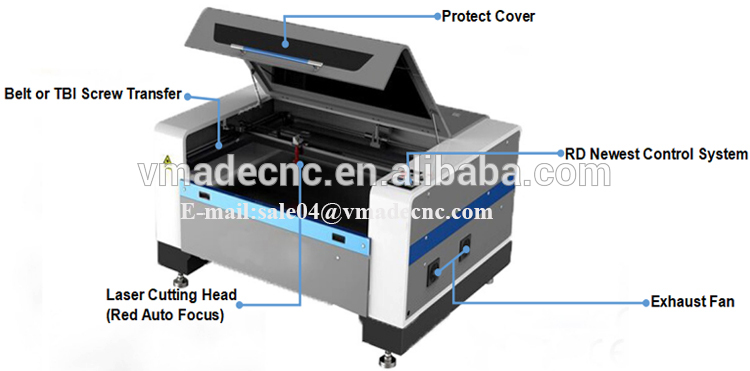 Vmade VML1309 CO2 LASER ENGRAVING&CUTTING MACHINE It is equipped with imported TBI Ball Screw, Delta Servo Motor and HIWIN Guide Rail The positioning accuracy of the machine can be 0 .02mm, to ensure the cutting quality of acrylic,wood,paper MDF etc.n all non-matel material. Our Advantages  ♦ 1×
co2 laser engraving machine
 ♦ 1×Air Pump(installed inside the machine) for Air Assist (for blowing off debris as the laser engrave or cut)  ♦ 1×Air Exhaust Fan(installed inside the machine) with Tube ducts ( for extracting gases from the work area)  ♦ 1×Water Chiller  ♦ 1×USB Cable (connecting PC and laser)  ♦ 1×DVD (Including software, User manual, Guiding videos etc.)  ♦ 1×Laser Tube,  ♦ 3×Reflecting Mirrors  ♦ 1×Focusing Len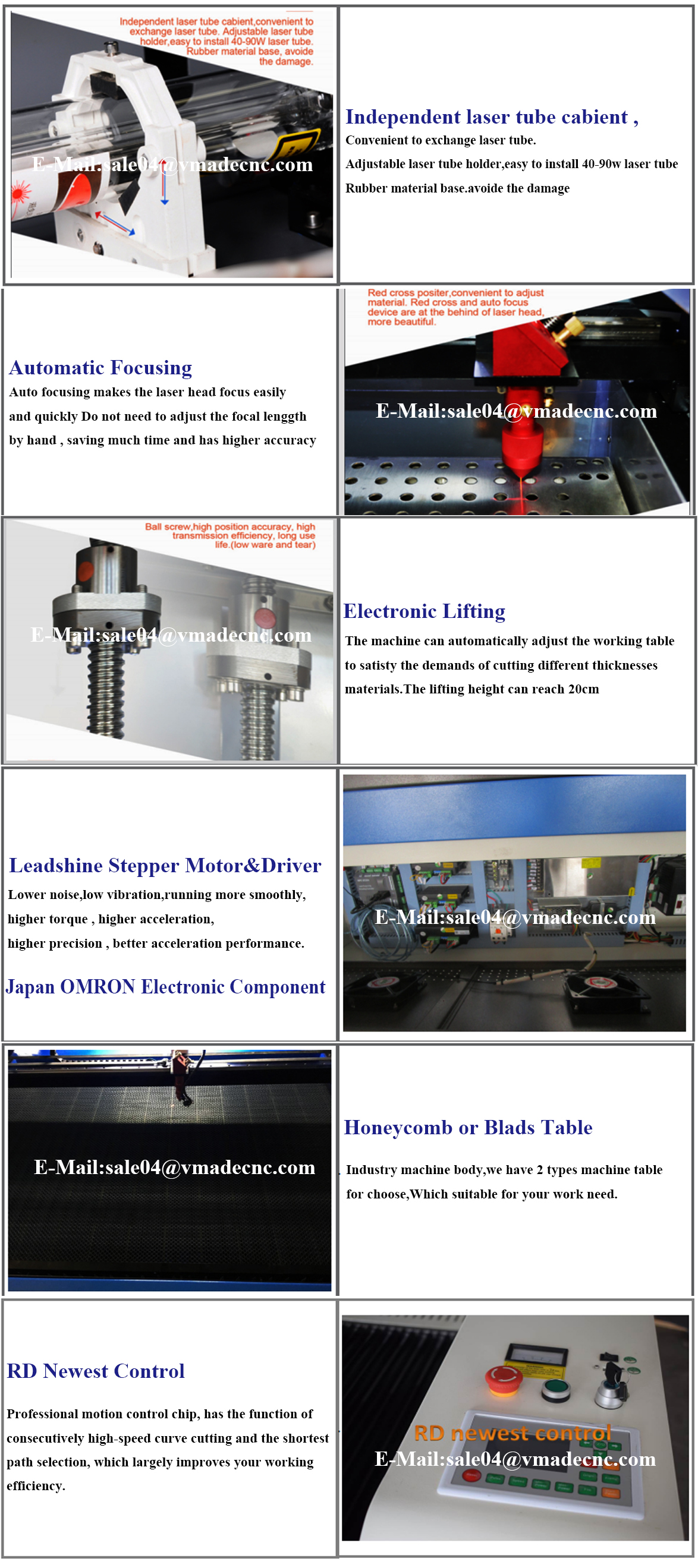 Product Paramenters
Model

VML0604
 VML1006
VML1309
VML1610
VML1325

Laser

RECI CO2 tube

Laser power

40W 60W 80W 100W 130W 150W 
    80W 100W 130W 150W 

Work platform size

600×400mm
1000×600mm
1300×900mm
1600×1000mm
1300×2500mm

Software

Ruida or Leetro for optional

Engraving speed

0~1000mm/s    

Cutting speed

0~500mm/s  

Worktable 

Honey-comb or Knife Slatted platform optional

Precision of positioning

 ≤±0.025mm

Graphic format Supported

The Files which CorelDraw, Photoshop, AutoCAD can identify
(BMP,GIF,JPEG,PCX,TGA,TIFF,PLT,CDR,DMG,DXF,PAT,CDT,CLK,
DEX,CSL,CMX,AI,WPG,WMF,EMF,CGM,SVG,SVGZ,PCT,FMV,GEM,CMX)

Compatible software

CorelDraw, AutoCAD

Working temperature:

0-45 degree C

Motor type:

Stepper Motor 

Cooling:

CW3000 or CW5000 or CW5200 Industry Water Chiller 

Control Configuration

DSP /USB Interface

Electricity:

220V/50Hz/1kva 
Sample Picture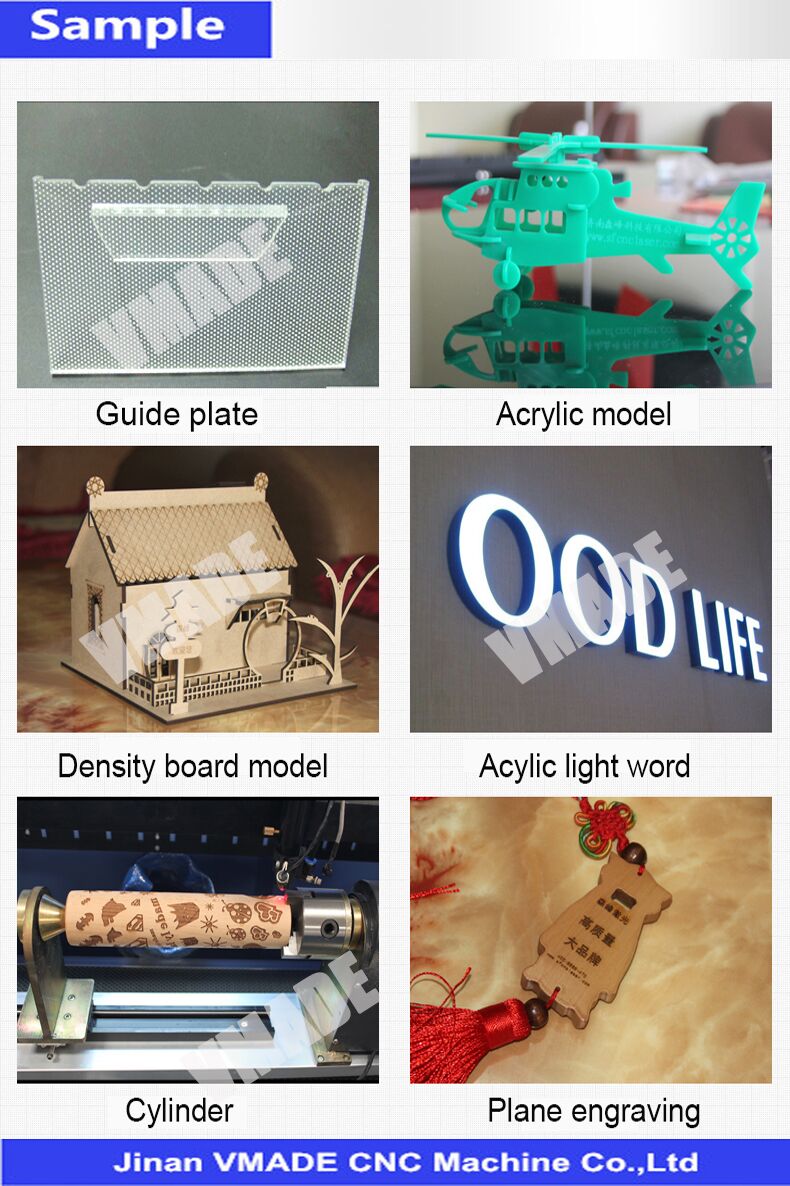 Packing & Delivery VML1309 Model Machine After Packing Size:2010*1660*1270mm    Weight:500Kg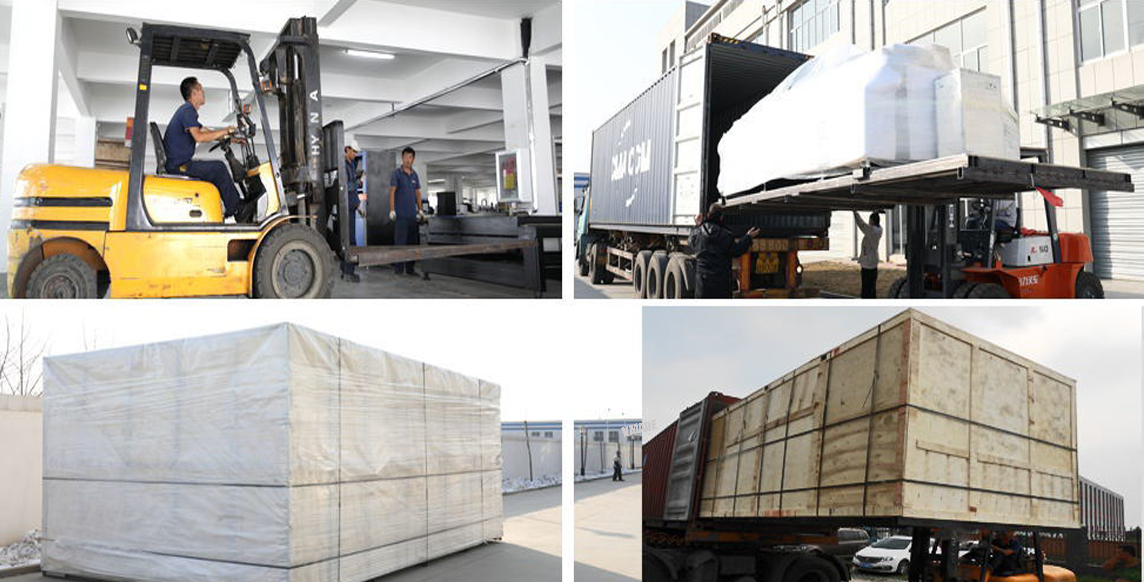 Company Profile Jinan Vmade CNC Machine Co.,Ltd was established in 2010. Located in hightech zone.It is a professional team which specialized in Optic, Electricity, Mechanics. Vmade keep delicate and attentive attitude on every step and always keep to learn the most advanced technology and create more humanized products to all our customers.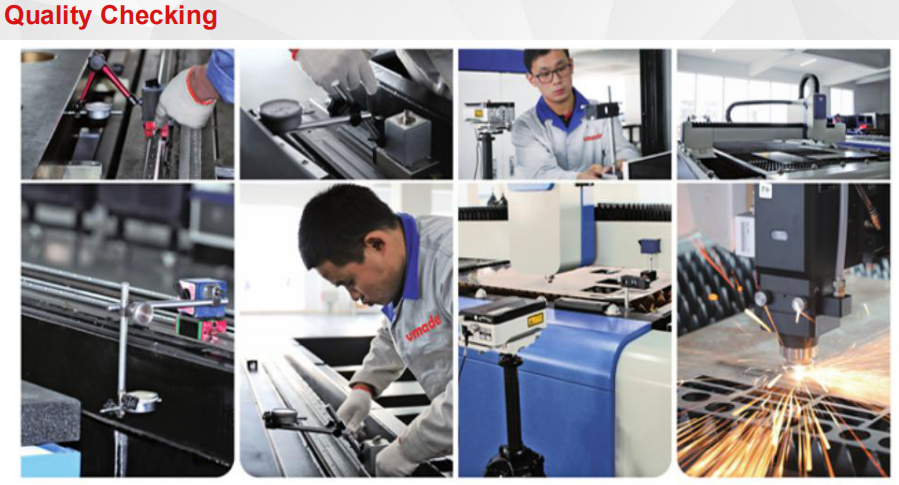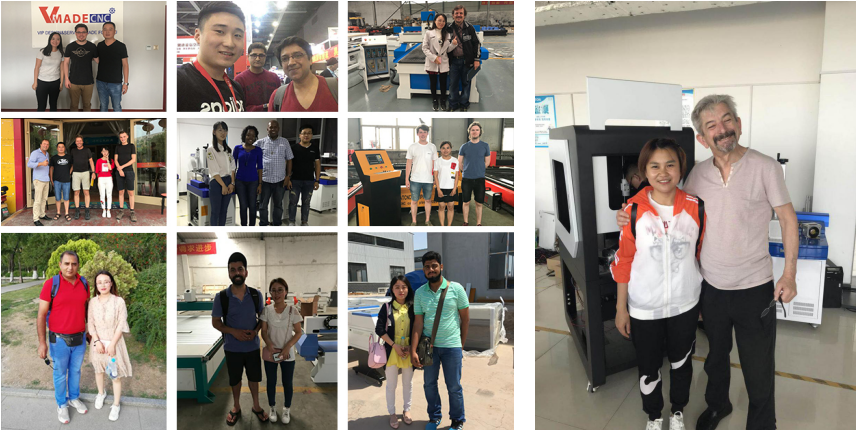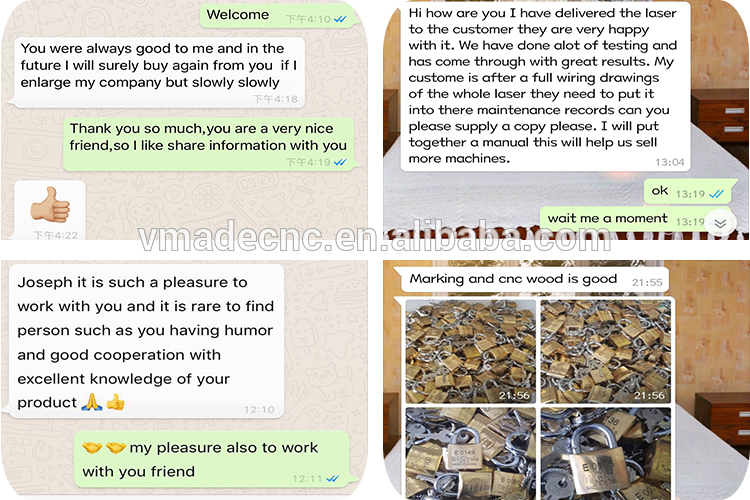 Contact Information Please tell us what you need 1.What is your working size?
2.What material do you need to cut/engrave?
3. What is the thickness and size of each materials?
4.What is your business industry? signage or art craft works or what else ?
5.What is your full name,email,company name,website and contact number ? If you have any questions, Please contact us  Busniess Card: Below My Contact Information: Tel:+86 0531 88971992 Cell Phone:+86 18615632037 WhatsApp&Skype:+86 15953190263 Wechat:eel1048421562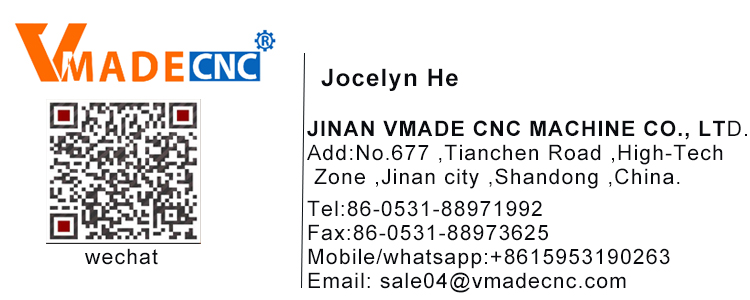 Contact us if you need more details on CO2 laser engraving machine for sale. We are ready to answer your questions on packaging, logistics, certification or any other aspects about Table CO2 Laser Engraving and Cutting Machine、mobile stickers co2 laser cutting machine on sale. If these products fail to match your need, please contact us and we would like to provide relevant information.
Product Categories : CO2 Laser Engraving And Cutting Machine > co2 laser engraving machine