5 axis 3D CNC Feeder Furniture Working ATC CNC Router Wood Router Engraving Machine
Product Description
#detail_decorate_root .magic-0{border-bottom-style:solid;border-bottom-color:#a0b0d0;font-family:Roboto;font-size:24px;color:#000;background-color:#f7f7f7;font-style:normal;border-bottom-width:2px;padding-top:8px;padding-bottom:4px}#detail_decorate_root .magic-1{width:750px}#detail_decorate_root .magic-2{overflow:hidden;width:750px;height:360.60711793440333px;margin-top:0;margin-bottom:0;margin-left:0;margin-right:0}#detail_decorate_root .magic-3{margin-top:0;margin-left:0;width:750px;height:360.60711793440333px}#detail_decorate_root .magic-4{color:#e56600;font-family:"sans serif",tahoma,verdana,helvetica;font-size:16px}#detail_decorate_root .magic-5{margin:0;padding:0;text-size-adjust:none;color:#333}#detail_decorate_root .magic-6{font-size:14px}#detail_decorate_root .magic-7{vertical-align:top}#detail_decorate_root .magic-8{vertical-align:top;display:block;padding-right:4px;box-sizing:border-box;padding-left:4px}#detail_decorate_root .magic-9{vertical-align:top;padding-bottom:4px;box-sizing:border-box;padding-top:4px}#detail_decorate_root .magic-10{padding:0;margin:0;white-space:pre-wrap;font-size:14px}#detail_decorate_root .magic-12{font-size:16px;font-weight:bold;box-sizing:content-box;margin:0;padding:0;border:0;font-style:inherit;font-variant-ligatures:normal;font-variant-caps:normal;font-variant-numeric:inherit;font-variant-east-asian:inherit;font-stretch:inherit;line-height:inherit;vertical-align:baseline;letter-spacing:normal;orphans:2;text-indent:0;text-transform:none;white-space:normal;widows:2;word-spacing:0;-webkit-text-stroke-width:0;text-decoration-style:initial;text-decoration-color:initial;color:#000;background-color:#f5f5f5;overflow-wrap:break-word}#detail_decorate_root .magic-13{box-sizing:content-box;margin:0;padding:0;border:0;font-style:inherit;font-variant:inherit;font-stretch:inherit;line-height:21px;vertical-align:baseline;font-weight:normal}#detail_decorate_root .magic-14{font-family:Arial}#detail_decorate_root .magic-15{box-sizing:content-box}#detail_decorate_root .magic-16{box-sizing:content-box;margin:0;padding:0;border:0;font-style:inherit;font-variant:inherit;font-stretch:inherit;line-height:21px;vertical-align:baseline}#detail_decorate_root .magic-17{overflow:hidden;width:750px;height:436.10223642172525px;margin-top:0;margin-bottom:0;margin-left:0;margin-right:0}#detail_decorate_root .magic-18{margin-top:0;margin-left:0;width:750px;height:436.10223642172525px}#detail_decorate_root .magic-19{overflow:hidden;width:750px;height:662.9392971246007px;margin-top:0;margin-bottom:0;margin-left:0;margin-right:0}#detail_decorate_root .magic-20{margin-top:0;margin-left:0;width:750px;height:662.9392971246007px}#detail_decorate_root .magic-21{overflow:hidden;width:750px;height:599.4466646172764px;margin-top:0;margin-bottom:0;margin-left:0;margin-right:0}#detail_decorate_root .magic-22{margin-top:0;margin-left:0;width:750px;height:599.4466646172764px}#detail_decorate_root .magic-23{overflow:hidden;width:750px;height:724.0882917466411px;margin-top:0;margin-bottom:0;margin-left:0;margin-right:0}#detail_decorate_root .magic-24{margin-top:0;margin-left:0;width:750px;height:724.0882917466411px}#detail_decorate_root .magic-25{margin-top:5px;margin-bottom:5px;text-size-adjust:none;zoom:1;font-family:"sans serif",tahoma,verdana,helvetica}#detail_decorate_root .magic-26{margin:0;padding:0;text-size-adjust:none;font-size:16px}#detail_decorate_root .magic-27{overflow:hidden;width:750px;height:381.55594405594405px;margin-top:0;margin-bottom:0;margin-left:0;margin-right:0}#detail_decorate_root .magic-28{margin-top:0;margin-left:0;width:750px;height:381.55594405594405px}#detail_decorate_root .magic-29{overflow:hidden;width:750px;height:404.61624026696325px;margin-top:0;margin-bottom:0;margin-left:0;margin-right:0}#detail_decorate_root .magic-30{margin-top:0;margin-left:0;width:749.9999999999999px;height:404.61624026696325px}#detail_decorate_root .magic-31{overflow:hidden;width:750px;height:376.75233644859816px;margin-top:0;margin-bottom:0;margin-left:0;margin-right:0}#detail_decorate_root .magic-32{margin-top:0;margin-left:0;width:750px;height:376.75233644859816px}#detail_decorate_root .magic-33{overflow:hidden;width:750px;height:500px;margin-top:0;margin-bottom:0;margin-left:0;margin-right:0}#detail_decorate_root .magic-34{margin-top:0;margin-left:0;width:750px;height:500px}#detail_decorate_root .magic-35{overflow:hidden;width:750px;height:396.9534050179211px;margin-top:0;margin-bottom:0;margin-left:0;margin-right:0}#detail_decorate_root .magic-36{margin-top:0;margin-left:0;width:749.9999999999999px;height:396.9534050179211px}#detail_decorate_root .magic-37{box-sizing:content-box;padding-left:4px;border:0;font-variant-numeric:inherit;font-variant-east-asian:inherit;font-weight:bold;font-stretch:inherit;font-size:16px;line-height:1;font-family:Arial,Helvetica,sans-senif;vertical-align:baseline;white-space:pre-wrap}#detail_decorate_root .magic-38{margin:0;padding:0 4px;border:0;font-variant-numeric:inherit;font-variant-east-asian:inherit;font-stretch:inherit;font-size:12px;line-height:inherit;font-family:Arial,Helvetica,sans-senif;vertical-align:top;display:inline-block}#detail_decorate_root .magic-39{margin:0;padding:4px 0;border:0;font:inherit;vertical-align:top}#detail_decorate_root .magic-40{box-sizing:content-box;margin:0;padding:0;border:0;font-style:inherit;font-variant:inherit;font-weight:inherit;font-stretch:inherit;font-size:16px;line-height:inherit;font-family:inherit;vertical-align:baseline;white-space:pre-wrap}#detail_decorate_root .magic-41{box-sizing:content-box;border:0;font:inherit;vertical-align:baseline}#detail_decorate_root .magic-42{box-sizing:content-box;margin:0;padding:0;border:0;font-style:inherit;font-variant:inherit;font-weight:inherit;font-stretch:inherit;font-size:inherit;line-height:24px;font-family:inherit;vertical-align:baseline}#detail_decorate_root .magic-43{box-sizing:content-box;margin:0;padding:0;border:0;font-style:inherit;font-variant:inherit;font-weight:inherit;font-stretch:inherit;font-size:inherit;line-height:normal;font-family:inherit;vertical-align:baseline;background-image:initial;background-position:initial;background-size:initial;background-repeat:initial;background-attachment:initial;background-origin:initial;background-clip:initial}#detail_decorate_root .magic-44{box-sizing:content-box;margin:0;padding:0;border:0;font-style:inherit;font-variant:inherit;font-weight:inherit;font-stretch:inherit;font-size:inherit;line-height:36px;font-family:inherit;vertical-align:baseline}#detail_decorate_root .magic-45{box-sizing:content-box;margin:0;padding:0;border:0;font-style:inherit;font-variant:inherit;font-weight:inherit;font-stretch:inherit;font-size:inherit;line-height:normal;font-family:inherit;vertical-align:baseline}#detail_decorate_root .magic-46{margin-top:5px;margin-bottom:5px;text-size-adjust:none;zoom:1;text-align:justify}#detail_decorate_root .magic-47{margin:0;padding:0;text-size-adjust:none}#detail_decorate_root .magic-48{margin-top:5px;margin-bottom:5px;text-size-adjust:none;zoom:1;text-align:justify;vertical-align:baseline;background-color:#f5f5f5}#detail_decorate_root .magic-49{margin:0;padding:0;text-size-adjust:none;font-style:inherit;line-height:21px;vertical-align:baseline}#detail_decorate_root .magic-50{margin:0;padding:0;text-size-adjust:none;font-style:inherit;line-height:21px;vertical-align:baseline;color:#f60}#detail_decorate_root .magic-51{margin:0;padding:0;text-size-adjust:none;text-align:justify;border:0;vertical-align:baseline}#detail_decorate_root .magic-52{margin:0;padding:0;text-size-adjust:none;font-style:inherit;line-height:21px;vertical-align:baseline;color:#00f}#detail_decorate_root .magic-53{overflow:hidden;width:750px;height:300px;margin-top:0;margin-bottom:0;margin-left:0;margin-right:0}#detail_decorate_root .magic-54{margin-top:0;margin-left:0;width:750px;height:300px} Product Description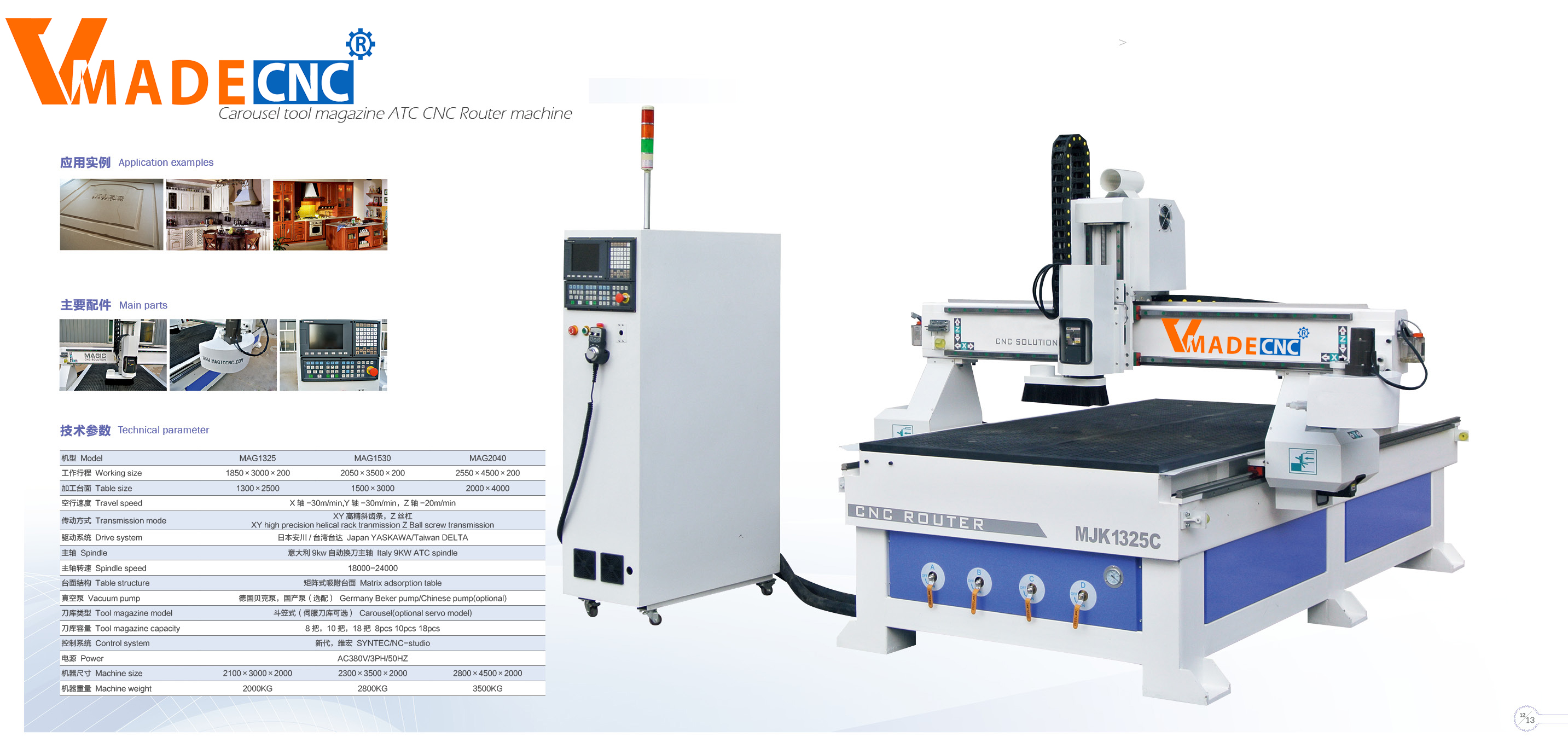 VRW SERIES 3D ATC
CNC router
MACHINE * Furniture: wooden doors, cabinets, plate, office and wood furniture, tables, chair, doors and windows. * The wood products: voice box, game cabinets, computer tables, sewing machines table, instruments. * Plate processing: insulation part, plastic chemical components, PCB, inner body of car, bowling tracks, stairs, anti-Bate board, epoxy resin, ABS, PP, PE, PEHD and other carbon mixed compounds. * Decorate industry: Acrylic, PVC,MDF, artificial stone, organic glass, plastic and soft metals such as copper, aluminum plate engraving and milling process. Our Advantages * NCstudio control system: Popular and easy operation, with USB port to transfer program;*China Local Brands air-cooling ATC spindle HQD: Long working life, easy maintenance; *Taiwan Delta Servo Driving System: With highly control precision and high speed, reliable and stable; *Taiwan Hiwin Guide 30mm and Block: Guaranteed genuine rail with good quality,realizing smooth movement; *Taiwan TBI ball screw: linear motion with high precision and and in high speed.; *Helical rack and pinion: quiet running, greater accuracy, smoother cutting and allows greater accelaration and feeding rates, longer lifetime because of smaller wearing force. *Taiwan Delta Inverter: Guarantee the variety working speed and protect the spindle very well; *Linear tool magazine, with Tool holders x 6pcs and Toolholder fork x 8 pcs, effectively improve working efficiency.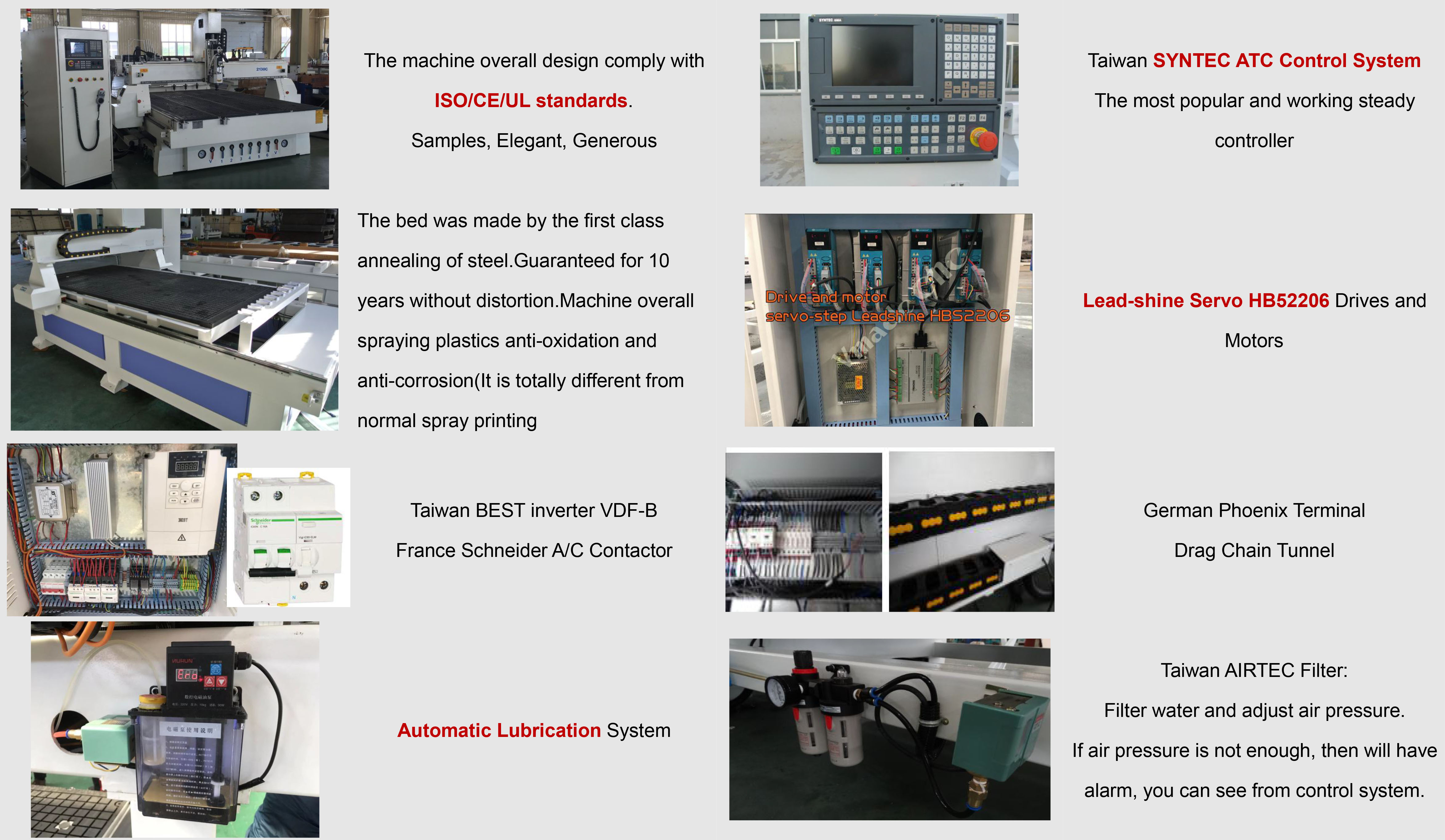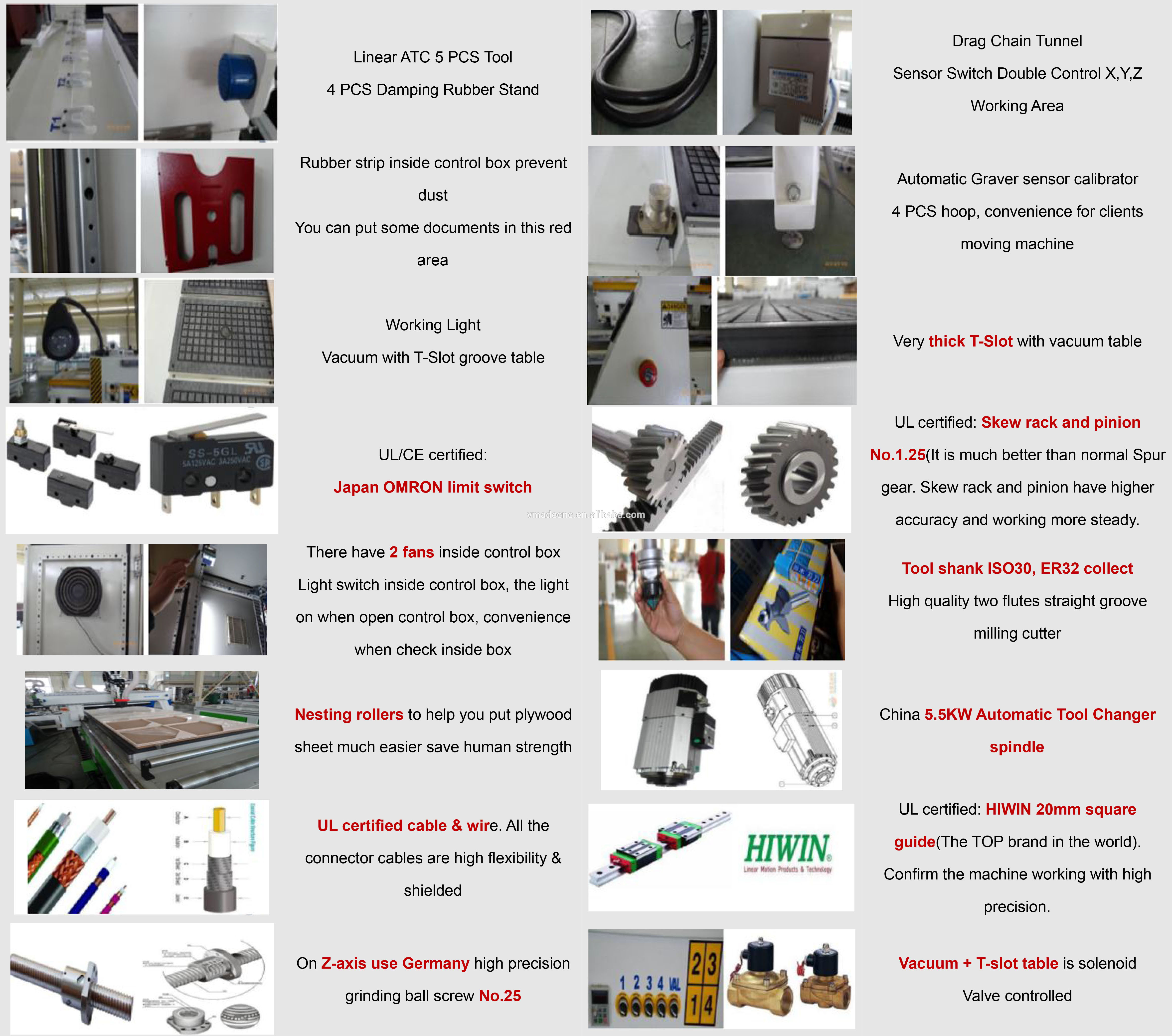 Product Paramenters
Sample Picture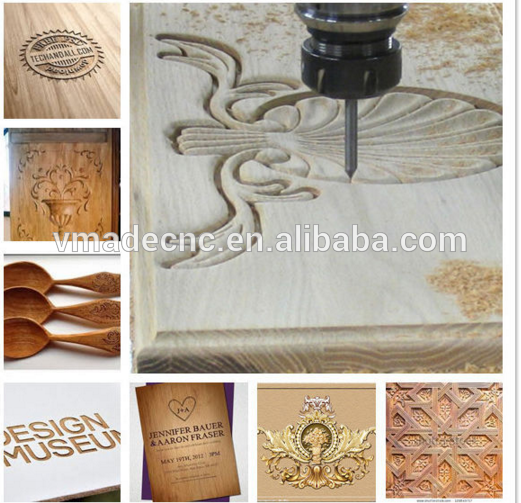 Packing & Delivery VRW1530 Model Machine After Packing Size:3490*2220*1925mm    Weight:3000Kg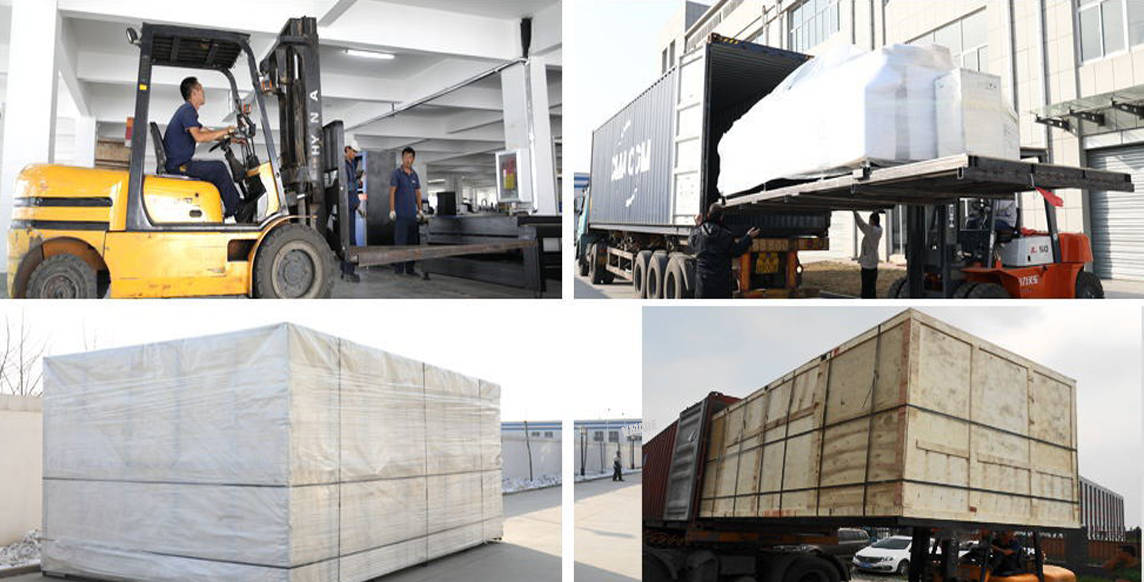 Company Profile Jinan Vmade CNC Machine Co.,Ltd was established in 2010. Located in hightech zone.It is a professional team which specialized in Optic, Electricity, Mechanics. Vmade keep delicate and attentive attitude on every step and always keep to learn the most advanced technology and create more humanized products to all our customers.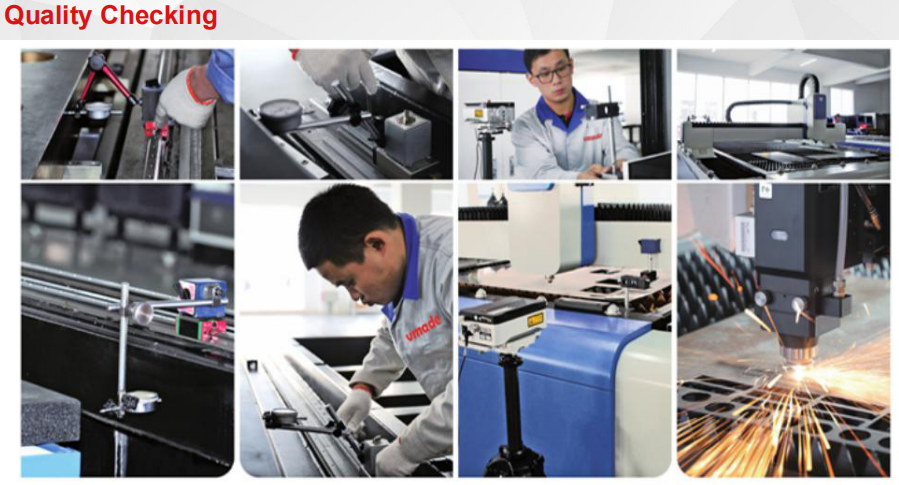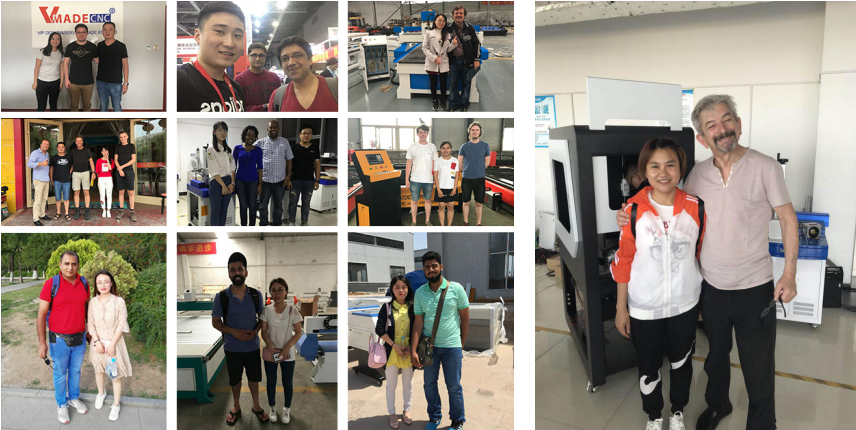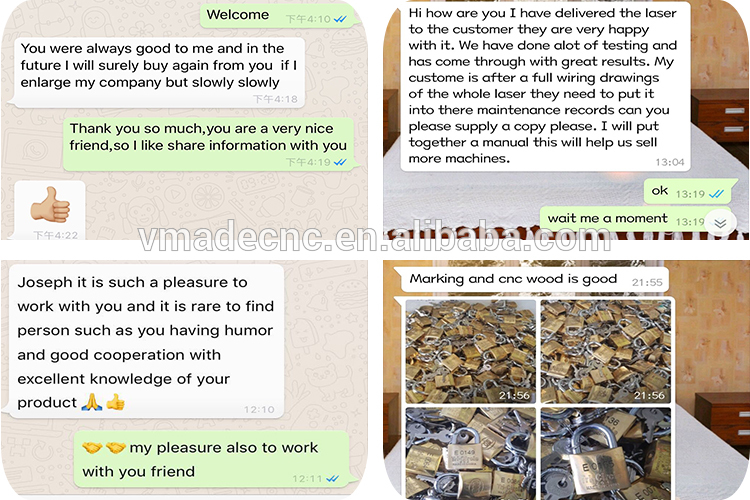 Certifications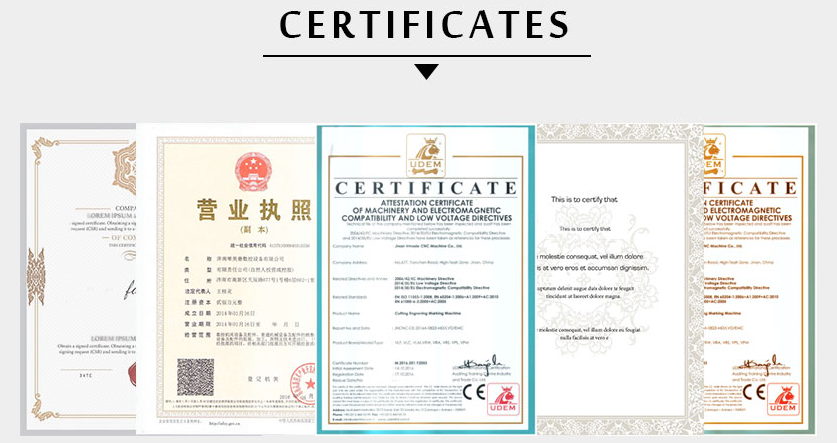 Contact Information Please tell us what you need 1.What is your working size?
2.What material do you need to cut/engrave?
3. What is the thickness and size of each materials?
4.What is your business industry? signage or art craft works or what else ?
5.What is your full name,email,company name,website and contact number ? If you have any questions, Please contact us  Busniess Card: Below My Contact Information: Tel:+86 0531 88971992 Cell Phone:+86 18615632037 WhatsApp&Skype:+86 15953190263 Wechat:eel1048421562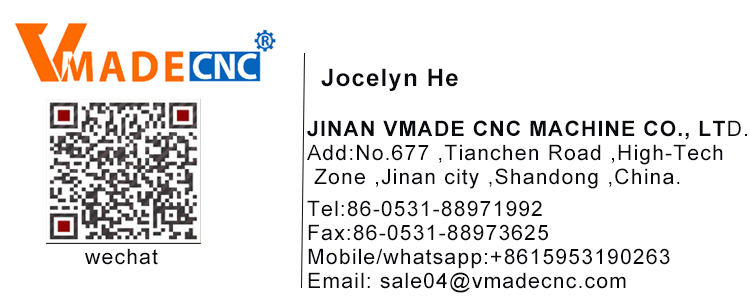 Contact us if you need more details on Furniture Working ATC CNC Router Wood Router Engraving Machine. We are ready to answer your questions on packaging, logistics, certification or any other aspects about 5 axis 3d wood engraving machine、cnc router wood router engraving machine. If these products fail to match your need, please contact us and we would like to provide relevant information.
Product Categories : CNC router > Multi Head CNC Wood Working Machine